Here's an entire selection of that one piece of tailgating gear that forms the heart of every gathering.  Strange ones fueled by the sun, iconic ones from ages past, ones so compact they fit behind your backseat and clever ones that offer you far more than just grates!
Built-in luxury gas grill for backyard entertaining with wood chip smoker, dedicated 3,000 BTU back- burner and backlit knobs.  Optional window allows view of 792-square-inch grill surface heated by 99,000 BTU burners. Includes four-zone illuminated digital thermometer with meat probe and halogen lamps for night sight.
New this spring, innovative charcoal grill combines classic kettle shape with smoker capabilities. Made to hold temperatures steady for more than 10 hours. Incorporates multi-zone heat options, hinged diffuser plate, two-position fuel grate and insulated lid and bowl for less charcoal consumption. Boasts 452 square-inch cooking space with built-in thermometer.
The iconic kettle shape that holds temperatures so well comes with oversized damper for better temp control and less charcoal needs. Hinged lid keeps hands free for flipping and basting. The porcelain-coated no-fall-through grates prevent flare-ups while distributing heat evenly.
Portable grill of porcelain-coated steel uses internal electric fan to create cyclone of air over burning wood to flavor foods like a campfire. Reaches 1,000 degrees in five minutes. Fourteen-inch grill surface, weighs 17 pounds.
Pellet grill with 20-pound hoppers can fit a whole hog—the crowning barbecue achievement of every tailgating pit master. Two digital control panels, two hoppers and two separate cooking chambers let you smoke a brisket in one while a turkey roasts in the other. Just load pellets, program temperature, and the smoker does the rest using 110V AC power.
Fuego offers a new grill design for your backyard barbecue party pleasure. Designed with a hinged, porcelain enamel lid to eliminate any paint peeling or bubbling.  It provides 22, 000 BTU with a dual zone burner system for direct and indirect grilling. It reaches 500°F in just 5 minutes and provides 346 square inches of cooking space. Optional griddle and pizza stone kit available.
We receive commissions for purchases made through links in this post.
For more information:
Fuego Element Hinged Propane Gas Grill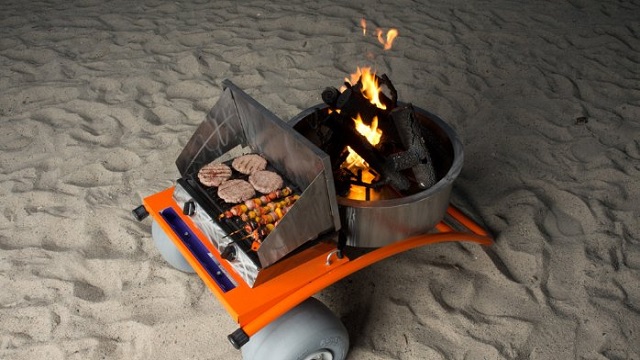 Brand new and made just for tailgating, this portable buggy lets you bring a side-by-side, propane-fueled fire pit and grill to the lot or track. Folds flat to fit in the trunk, yet balloon tires pull 60-pound unit easily over rough terrain. Electronic ignition. 24" W x 14"H x 39" L.
Now you can grill your favorite meal while enjoying a bon fire.  Portable buggy for ease of transporting and collapses to fit in the trunk of a car.  The balloon tires maneuver easily in sand or rough terrains. Artistic steel logs so no loose parts to fall out when transporting. State of the art burners to produce taller and brighter flames. Telescoping grill for lower or higher positions.
Perfect for backyards, tailgates, camping and the beach.  Just roll it out and turn it on!
For more information:
Grill 'N Glow
Made by the pioneers of portable, hooded and indirect heat for grilling, this nickel-plated charcoal grill also bakes and smokes. Weighs only 48 pounds and includes steel-lift mechanism, fire box and ash pan. Offers 258-square-inch cooking space in compact 23 inches of height.
Gel fuel heats up the needed 7 to 8 pieces of charcoal within three minutes and, because grease runs to the side, it produces no black smoke, allowing for use indoors. Three changeable plates included for grilling, roasting and indirect grilling with lid. Exterior stays cool enough to touch as it cooks.
Large enough to fit 12 burgers but small enough at 23 inches wide to travel on the backseat. Propane grill uses TRU-Infrared cooking for less flare-ups and juicier food, and latch lid and electric igniter make grilling and transporting easy.
Unique wood-fired cooking experience inspired by Argentine ways. Cast aluminum crank wheels let you adjust the height of the cooking surface to the rise and fall of the wood-fed flames. Barely slanted V-channels capture juices for basting. Handmade and made to last.
Outdoor, portable cooking unit uses propane-powered "far infra-red," which heats the food, not the air, and cooks from the top down like a broiler, so you can sear a steak or melt cheese. Big enough to hold casserole dishes, six half-pound burgers or a whole pizza.
Portable ceramic grill with a whopping 210 square inches of cooking area. Optional rack boosts that to 360 square inches. Ceramic means super charcoal-efficient and constant temps to grill, bake, roast or smoke for 10 or more tailgaters.
No more coal, no more propane. Cook a meal in 20 minutes at temperatures up to 550 degrees, even under cloudy skies. Sets up in seconds to bake, boil, steam and fry. Vacuum insulation keeps exterior cool.
A portable grill that offers the performance and versatility of its full sized siblings. On-the-go grillers will love the functionality of being able use the Porta-Chef 320 as a tabletop grill or standalone unit. With its drop-down shelves and detachable snap in legs the 320 is easy to transport. Cooking on-the-go has never been more convenient!
For more information:
Broil King Porta-Chef™ 320 Propane Gas Grill
Known nationwide for commercial grills, this 6-foot towable rotisserie lets you feed tailgating masses on 15 square feet of grates. Wood or charcoal-fired with Croft adjustable hitch, running lights, fenders and slide-out ash pan for easy fuel loading. Includes 13-inch tires, hood thermometer and cutting board.
Sit back and smoke with ease in the lot. Portable electric smoker heats to approximately 165 degrees and smokes up to 15 pounds of meat or fish (or nuts, fruits, cheese). Includes racks, drip pans, flavor pan and bag of natural wood chips. 14" H x 11.5" W x 11.5" D.
For more information:
Mini Chief Electric Smoker
Stainless steel gas grill on rolling cart with side shelves weighs in at 145 pounds to make a trip to the lot or just sit pretty on the patio. Two oval-shaped burners blaze at 25,000 BTU and adjust from 250–500 degrees under diamond-pattern, 400-square-inch cooking grid. Steam anything by filling drip pan with liquid and setting burner to high.
No need to hover anymore. Control the temp of this pellet grill through mobile app hooked to meat probe and thermal sensor that constantly monitors the ambient temperature, even boosting temps for faster lighting in cold temps. Peaked lid allows for large fowl, pots and rib racks for real tailgate feasts on 432 square inches of stainless steel grates.
For more information:
Green Mountain Grills Daniel Boone
Tailgating at its simplest, this charcoal grill fits anywhere but has room for three or more burgers and brats while needing only 12 to 15 briquettes. Entire thing assembles in 30 seconds and collapses to four inches high. Includes carrying bag. New Budweiser version with lid now available.
The Original PK Grill & Smoker is super tough and portable so bring your grill with you on barbecue adventures!  It cooks like an egg-style cooker (a.k.a. Kamado), but one person can lift and load it without a crane.  The oven detaches from the carriage without tools for easy cleaning.  Camping and tailgating are the PK's best friends.  Fantastic BBQ on the go, anytime!
The PK is a world class grill and smoker.  The nickel-plated steel hinged grid makes refueling for long smokes easy without having to remove the cooking surface or move the food.  You will be a backyard or parking lot hero, whether grilling high temperatures for short periods for burgers or low temperatures for longer periods for beef brisket!
Aluminum conducts heat more efficiently which provides a smooth distribution of heat around the PK capsule resulting in very even cooking without the need to constantly turn or reposition the food on the grill. Because aluminum is inherently rustproof, this could be the last grill you ever buy!
We receive commissions for purchases made through links in this post.
For more information:
The Original PK Grill & Smoker
All-in-one tailgating unit holds stainless steel Char-Broil grill with 425 square inches of cooking grates over 24,000 BTU dual burners. Infrared gas grill includes electric ignition, temperature gauge and warming rack. Comes as part of lockable tailgating box that includes BOSS amplifier, tabletop, cutting board and 54-quart Coleman cooler. Rides on a hitch and rolls to the lot.