Hosting a Homegate Super Bowl party?  Score with these mouthwatering recipes and you'll be the winner on Super Bowl Sunday!
Creole Jambalaya
courtesy of New Orleans Restaurateur Ralph Brennan, Excerpted from The 2014 Ultimate New Orleans Tailgate Guide, NewOrleans-Food.com
"Over the decades, jambalaya has taken on a multitude of identities in south Louisiana. The classic New Orleans dish with shrimp and ham is among the "red" jambalayas, thanks to the presence of tomatoes in it. In many of the Cajun communities to the west of the city, "brown" jambalayas, with oysters, giblets and lusty country sausages, are more familiar. "
1 tablespoon unsalted butter
4 ounces Andouille sausage, sliced into rounds
4 ounces pickled pork or ham, cut into cubes
1 medium-sized yellow onion, chopped
1 bunch of green onions, chopped, with white and green parts separated
1 medium-sized green pepper, chopped
2 10-ounce cans crushed tomatoes
1/4 cup canned tomato purée
2 cloves garlic, minced
1 whole bay leaf
1 teaspoon table salt
1/2 teaspoon ground black pepper
1/4 teaspoon ground cayenne
1/4 teaspoon dry thyme leaves
4 cups chicken stock
1 tablespoon Louisiana pepper sauce
2 cups long-grain white rice, uncooked
1 pound raw medium shrimp, peeled
Over medium-high heat, melt the butter in a heavy, nonreactive 6-quart saucepan or Dutch oven. Add the sausage and pickled pork or ham, and cook until all of the fat is rendered out of the meats, about five minutes, stirring occasionally.     
Add the yellow onions, the white part of the green onions and the sweet peppers. Cook the vegetables until they are clear, about five minutes, occasionally stirring and scraping the pan bottom clean. Add the crushed tomatoes, tomato purée, garlic, bay leaf, table salt, black pepper, cayenne and thyme. Cook and stir this base sauce about two minutes. (If the dish is being prepared ahead, allow the base sauce to cool, and then place in a lidded nonreactive container and store it in the refrigerator for up to two days. For the final preparation, heat the base to a boil, and proceed with the remainder of the recipe.)     
Add the chicken stock and pepper sauce to the base, and bring to a boil. Reduce the heat to maintain a strong simmer, and simmer the liquid uncovered until it is reduced by one third, about one hour and 15 minutes. Skim off any foam or coagulates as they develop on the surface. Return the liquid to a boil, and stir in the rice.
Reduce the heat to medium, and cook uncovered, stirring occasionally, until the rice is just short of being done (it should still be a little firm in the center), about 25 minutes.
Add the shrimp, and cook until the rice is tender and the shrimp turn bright pink, about three minutes. Do not overcook. Stir in the green part of the green onions.
Serving Suggestion: Spoon the warm jambalaya onto a heated serving platter or into a wide, shallow serving bowl.
Grilled Korean and Knob Creek Rye Whiskey BBQ-Style Wings
Recipe by Celebrity Chef Michael Symon, photo courtesy of Knob Creek Rye Whiskey.
"Spicy wings with a Korean BBQ sauce using Knob Creek Rye Whiskey!"
2 pounds chicken wings
Korean and Knob Creek Rye® Whiskey BBQ Sauce (recipe below)
Kosher salt
Freshly ground black pepper
Olive oil
1/4 cup thinly sliced scallions
1/2 bunch cilantro, chopped
Korean and Knob Creek® Rye Whiskey BBQ Sauce
1/4 cup Knob Creek Rye® Whiskey
2 tablespoons sambal (spicy Asian condiment)
6 tablespoons soy sauce
2 tablespoons honey
3 tablespoons rice wine vinegar
4 teaspoons fresh ginger
1/2 cup hoisin sauce
For the Sauce: add all ingredients to a mixing bowl, and whisk together. Set aside.
Place the chicken wings in a gallon-sized bag, and pour in half of the Korean and Knob Creek Rye® Whiskey BBQ sauce. Reserve the other half of the Korean and Knob Creek Rye® Whiskey BBQ sauce for later use. Make sure all of the wings are coated, and then refrigerate for up to 4 hours or overnight.
Preheat your grill to medium heat. Remove the wings from the marinade, and pat them dry. Discard the marinade. Lightly season the wings with salt and freshly ground black pepper. Drizzle the wings with a little bit of olive oil, and then place them on the grill.
Cook until nicely grill marked and cooked through, about 25 to 30 minutes. Throughout the last 10 minutes of the cooking process, brush the wings with the reserved Korean and Knob Creek Rye® Whiskey BBQ sauce.
Remove the wings from the grill, and pour them onto a platter. Sprinkle with the sliced scallions and chopped cilantro. Serve the remaining Korean and Knob Creek Rye® Whiskey BBQ sauce on the side.
Cheese "Burker" Sliders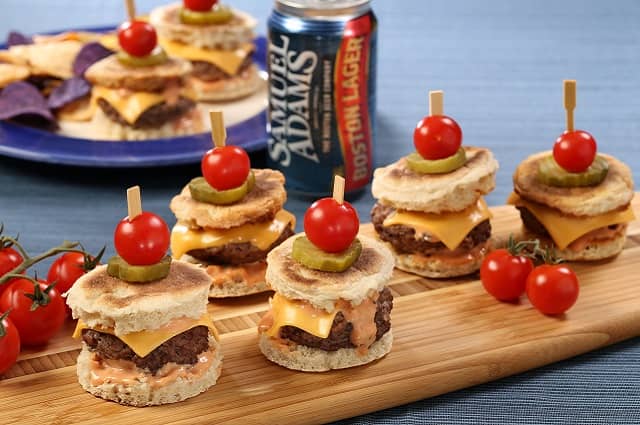 Recipe by Chef David Burke, photo courtesy of Samuel Adams Boston Lager
"Spicy wings with a Korean BBQ sauce using Knob Creek Rye Whiskey!"
For the Burgers:
20 small burger buns or English muffins, halved
40 ounces ground beef
4 bottles Samuel Adams Boston Lager
Sliced pickles
40 slices American cheese, cut in 1-inch x 1-inch pieces
20 tomato skewers
For Ketchup:
2 cups ketchup
2 cups mayonnaise
4 tablespoons Boston Lager
Preheat oven to 350°F. Slice English muffins in half. Scoop out half of the bread on the bottom portion. Fill with two ounces ground beef that has been tossed with Samuel Adams Boston Lager. Place on sheet pan upside down (on meat side), and brown meat in oven for 3 minutes. Remove from oven, and top meat with cheese, thinly sliced pickles and top of English muffin. Heat in oven for 5 minutes. Remove from heat, and skewer with tomato. Serve immediately.
For the Boston Lager Ketchup, mix together all ingredients, and serve with sliders!
Ultimate Hot Baltimore Crab Dip
Excerpted from
Cooking with Frank's® RedHot® Cayenne Pepper Sauce
, by Rachel Rappaport. Photography by Judi Swinks. ©2014 Ulysses Press. Used with permission.
"No party is complete without bubbling, cheesy crab dip. Kick it up a notch with the addition of Frank's RedHot Original Cayenne Pepper Sauce!"
1 cup blue crab claw meat
1 cup lump blue crab meat
1 cup cream cheese, at room temperature
3/4 cup sour cream
1/4 cup Frank's® RedHot® Original Cayenne Pepper Sauce
2 1/2 tablespoons mayonnaise
1 1/2 tablespoons Chesapeake Bay seasoning
1/2 tablespoon Worcestershire sauce
1/4 teaspoon garlic powder
1/4 teaspoon freshly ground black pepper
1 shallot, minced
3/4 cup shredded sharp cheddar cheese
Preheat oven to 350°F. In a medium bowl, stir together both crab meats, cream cheese, sour cream, Frank's® RedHot® Original Cayenne Pepper Sauce, mayonnaise, Chesapeake Bay seasoning, Worcestershire sauce, garlic powder, black pepper and shallot until smooth.
Spread the mixture into an 8- x 8-inch baking dish. Sprinkle with the cheddar cheese in an even layer. Bake uncovered until the cheese is melted and the dip is warmed through, about 15 minutes. Serve immediately with crackers, chips or bread.
Meatball Jalapeño Poppers
Courtesy of Casa De Bertacchi, casameatballs.com
"Serve these up at your next party on the patio or parking lot!"
13 jalapeños, stemmed
1 8-ounce package cream cheese, softened
13 frozen, fully cooked Casa Di Bertacchi meatballs, thawed
13 slices (1 pound) sliced bacon, cut in half
Preheat oven to 375°F.  Slice each pepper in half lengthwise, remove the seeds, and rinse out. Spread cream cheese in each jalapeño half.
Cut the meatballs in half. Place each meatball half, cut side down, over the cream cheese. Wrap a half slice of bacon around each stuffed jalapeño and secure with a toothpick.
Place on a baking sheet and bake 25 to 30 minutes, or until bacon is browned. Serve immediately on a platter.
Note: Use plastic gloves when cutting and preparing peppers to prevent skin irritation.
Caramel Almond Popcorn Clusters
Recipe and photo courtesy of the Popcorn Board
"These popcorn clusters are bursting with sweet, nutty flavors that are perfect for entertaining a group, giving as a gift or just enjoying at home!"
10 cups freshly popped popcorn
2 cups whole almonds
1 cup firmly packed light brown sugar
1/2 cup butter or margarine
1/4 cup light corn syrup
2 teaspoons vanilla
1 teaspoon almond extract
1/2 teaspoon baking soda
Preheat oven to 225°F. Spray a 10- x 15-inch baking sheet with non-stick spray. Mix popcorn and almonds in a large bowl.
Combine brown sugar, butter and corn syrup in medium saucepan. Over low heat, stir mixture until sugar dissolves. Increase heat to high, and boil 5 minutes. Remove from heat; stir in vanilla, almond extract and baking soda.
Pour over popcorn and almonds, immediately stirring gently to coat. Pour mixture onto prepared baking sheet, spreading evenly.
Bake for 1 hour in preheated oven. Cool completely. Break into pieces, and store in airtight container.