Beef and pork are usually the foundation of most tailgate, or backyard BBQ parties, but let's not forget the delicious gifts which come from our rivers and seas. Seafood is a lean source of protein that's low in saturated fat. Time to show your heart some love and feed your brain with seafood's omega-3 content!
Mix things up on your next tailgate menu by adding seafood dishes and seafood appetizers into your cooking and grilling routine. How does this sound: Grilled Tilapia, Coconut Shrimp, Salmon Sliders, or Smoked Catfish? I'm feeling hungry and healthier already!
Whether you're planning a simple weeknight meal, tailgating at the game, or hosting your own game day backyard gathering, we got you covered with some healthy options. Get ready for wow your friends and family with these quick and easy seafood dishes and appetizers!
Grilled Foil Packet Tilapia with Pesto Veggies
Recipe courtesy of Dish on Fish and The Lean Green Bean
"Cleanup is a breeze when serving Grilled Foil Packet Tilapia with Pesto Veggies. Perfect for a quick, easy and healthy dinner for the family or entertaining with friends. "
4-6 cups of chopped vegetables (zucchini, peppers, yellow squash, corn and cherry tomatoes)
¼ cup of pesto (homemade or store bought)
1 pound of tilapia filets, fresh or frozen
4 lemon slices
salt and pepper, to taste
Preheat grill to medium (about 400 degrees). In a bowl, combine vegetables and pesto and stir until well coated. Divide vegetable mixture between 4 large sheets of foil. Top each pile of veggies with a piece of tilapia. Add a slice of lemon and sprinkle with salt and pepper. Fold sides of foil up to meet in the middle and fold closed, then fold in sides to seal foil packets. Add foil packets to grill and cook for approximately 10 minutes. Tilapia is done when it is white instead of translucent and flakes easily with a fork. Drain excess liquid from packets before serving.
Honey Garlic Shrimp Skewers
Recipe courtesy of Rima Kleiner, MS, RD; photo credit: Dish on Fish
"Serve Honey Garlic Shrimp Skewers as appetizers, pair them with a side of grilled veggies or top a
salad for a healthy, balanced meal.
"
1/3 cup honey
1/4 cup reduced-sodium soy sauce
1 tsp. crushed red pepper
2 lb. medium shrimp, peeled and deveined
8-10 wood skewers
Soak wooden skewers for 30 minutes (if using metal skewers, you can skip this step). In a small bowl, mix honey, soy sauce, garlic and red pepper. Put half of the marinade in a large plastic baggie and set other half of marinade aside.
Place shrimp in baggie with half of marinade; refrigerate for 15 minutes. Preheat grill to medium-high heat while shrimp is marinating. After skewers have soaked, thread 5-6 shrimp on each.
Grill skewers over medium-high heat for 2 minutes. Flip, brush remaining marinade on the shrimp and cook for 1-2 minutes.
Firecracker Salmon Steaks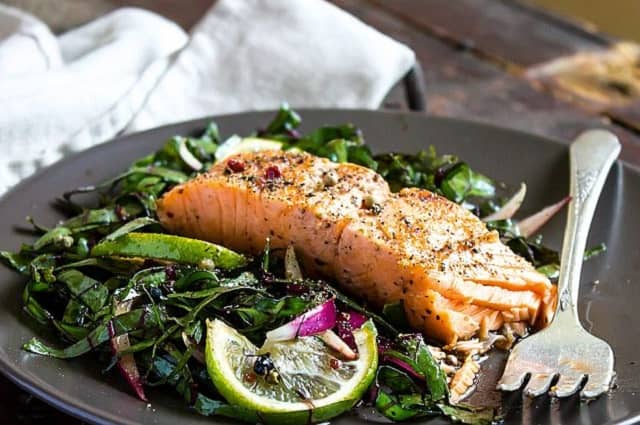 Courtesy of Green Mountain Grills
"A delicious pellet grilled Salmon Steaks recipe, great for summertime barbecues and other gathers when good salmon steaks are on-hand. Firecracker salmon is boldly flavored with a sweet delicious finish. Start with 4 Salmon steaks (6-7 ounces each), skin on. Follow steps below."
4 Salmon steaks (6-7 ounces each), skin on
Firecracker Sauce
1/4 cup Balsamic Vinegar
1/4 cup Chili Sauce
1/4 cup Brown Sugar
5 Garlic cloves, minced
3 teaspoons minced fresh Parsley
1/4 teaspoon fresh minced ginger or ginger powder
1/4 – 1/2 teaspoon cayenne pepper
1/4 – 1/2 teaspoon crushed red pepper flakes, optional
In a small bowl combine the sauce ingredients. Rinse and pat dry the salmon. Let the salmon come to room temperature, about 15 minutes. Apply sauce liberally to both sides of the salmon.
Set the grill at 400°.  When the grill reaches temperature lay the salmon with the sauced side (skin) down on the grill. Brush the exposed side of the salmon with sauce and continue basting with sauce while cooking.
Cook for 4 – 5 minutes per side until the salmon flakes easily with a fork.
Crab Cakes
Recipe courtesy of Four Seasons Baltimore
"Serve these as an appetizer or the main meal at your next party in the parking lot or backyard!"
10 pounds lump and jumbo lump crabmeat
2 1/2 cups finely crushed saltines
10 whole eggs
4 1/2 cups mayonnaise
1/2 cup Dijon mustard
1/4 cup Worcestershire Sauce
1/4 cup hot sauce
4 lemons, zest and juice
5 tablespoons Old Bay
1/4 cup chopped parsley
1/4 cup chopped tarragon
1/4 cup minced chives
Tartar Sauce:
4 cups mayonnaise
1/4 cup finely chopped dill
1/8 cup finely chopped capers
1/4 cup finely chopped cornichons
1/2 cup finely minced red onion
1/8 cup finely chopped tarragon
1/4 cup finely chopped parsley
1/4 cup finely minced chives
1/8 cup lemon juice
Pick through crabmeat to ensure there are no shells. Mix together all ingredients except crabmeat and saltines until base comes together. Using a rubber spatula, gently fold in crabmeat, trying not to break up the lumps. Once crabmeat is homogenous with the mayonnaise base, sprinkle in saltines and again fold together. Allow mixture to rest in a refrigerator for about an hour until cold. Using a 2-ounce ice cream scoop, scoop out crab cakes onto a parchment- or Silpat-lined sheet tray.
To Bake: Preheat oven to 350°F. Place cakes in the oven, and cook until golden brown on the outside but just warmed in the middle, about 10 minutes.
To Fry: Prepare a breading station by placing all-purpose flour in one bowl, whisked whole eggs in the second bowl and panko breadcrumbs in the third bowl. Roll 2-ounce crab cakes into balls, and then bread each cake by dredging first in the flour, followed by the egg wash, and finally in the panko bread crumbs. Fry the crab cakes at 350°F until golden brown but just warmed in the middle, about 3 minutes.
To Make Tartar Sauce: Using a mixing bowl and rubber spatula, mix the ingredients together and set aside. Can be made a day ahead of time.
Blackened Tuna Burger Po' Boys
Courtesy of Kalamazoo Outdoor Gourmet
"Wild tuna are ferocious fighters when caught on the line, and they hold an equally strong flavor that wrestles nicely with the heat of the blackening spices in these sandwiches."
for the remoulade:
¼ cup mayonnaise
2 tablespoons Dijon mustard
2 heaping teaspoons salt-cured capers
½ teaspoon Worcestershire sauce
1 teaspoon prepared horseradish
1 tablespoon ketchup
1 tablespoon freshly-squeezed lemon juice
½ teaspoon Tabasco sauce
1 teaspoon extra-virgin olive oil
1 green onion, cut up
½ teaspoon paprika
½ teaspoon dried thyme
½ teaspoon granulated garlic
for the blackening spice blend:
1 tablespoon paprika
1 teaspoon dried thyme
1 teaspoon dried rosemary leaves, coarsely ground
1 teaspoon dried oregano
1 teaspoon ground white pepper
1 teaspoon onion powder
1 teaspoon granulated garlic
½ teaspoon ground cayenne pepper
½ teaspoon ground black pepper
for the sandwiches:
1 pound fresh tuna steak, cut up, cold
½ pound fresh shrimp, cut up, peeled and deveined, cold
1 tablespoon extra-virgin olive oil
1 tablespoon safflower oil or other high-temperature oil
1 French baguette (not too hard), sliced
1 ½ cups thinly sliced savoy cabbage
tomato slices
To make the remoulade sauce, place all ingredients in a blender and process until smooth. Cover and refrigerate until use.
For the blackening spice blend, combine all ingredients and reserve.
Prepare an outdoor grill for direct grilling over a hot fire. Preheat a cast iron griddle or large skillet in the hot zone.
Place the cold tuna, cold shrimp and olive oil in a food processor. Process until the mixture can be formed into patties but is still chunky. Form into 4 equal patties and cover both sides with the blackening spice blend.
Add the safflower oil to the hot griddle. Use caution, as you may easily be past the flash point temperature of the oil. (If the oil does ignite, you may proceed with cooking—we are blackening after all—just be careful not to burn yourself. As always when grilling, make sure you are not wearing loose-fitting clothing. Quickly add the patties. Cook, flipping once, until done. These patties need to be fully cooked because of the shrimp.
Spread a little remoulade onto each sliced baguette. Cut each patty in half and add to the baguettes along with some cabbage and tomato slices. Drizzle a little more remoulade over the cabbage and serve.
Seaside Salmon Sliders
Photo and recipe courtesy of the National Fisheries Institute
"Pre-made and refrigerated, these cakes make perfect heat-and-eat appetizers, small plates or burgers for your next tailgate or backyard party!"
1 14-ounce can salmon, drained
3/4 cup saltine cracker crumbs, roughly crumbled
1/4 cup finely chopped onion
1/4 cup finely chopped red bell pepper
1 tablespoon olive oil
1/2 teaspoon dried dill weed
1 egg, beaten
1 tablespoon lemon juice
Olive oil
4 whole-wheat slider buns
4 teaspoons mayo or mustard (optional)
4 thinly sliced rings of red onion (optional)
4 pieces lettuce (optional)
4 slices tomato (optional)
In a large bowl, toss salmon and cracker crumbs; set aside. In heavy skillet, cook onion and red bell pepper in olive oil until tender. Add to bowl and mix gently. Add dill weed, egg and lemon juice, and mix gently. Form into four patties. Add more olive oil to the same skillet. Add patties to skillet when hot. Cook patties for 3 to 4 minutes on each side until golden brown. Assemble slider and add your favorite condiments.
Spicy Cuban Smoked Catfish
Courtesy of
"Dadgum That's Good" Kickbutt Recipes for Smoking, Grilling, Frying, Boiling and Steaming
by John McLemore. Used with permission of Concept, Inc.
"John says: My go-to method for cooking catfish has always involved the fryer. With the smoker, I can experiment with different flavors and enjoy a new twist on an old favorite. Be careful not to marinate the catfish for too long with this recipe, because the lime will "cook" the fish."
7 catfish filets (2½ pounds)
1 tablespoon paprika
1 teaspoon ground cumin
1 teaspoon black pepper
1 teaspoon salt
1 teaspoon onion powder
1/4 teaspoon cayenne pepper Sauce:
1/2 cup chicken stock
1/2 cup orange juice
2 tablespoons lime juice
1/2 cup vegetable oil
In a small bowl, combine the paprika, cumin, pepper, salt, onion powder, and cayenne pepper to make a rub. Reserve 1 tablespoon for mop. Coat catfish filets with rub. Lay filets flat in a large pan, cover and marinate in the refrigerator for at least 3 hours.
Load wood tray with one small handful of wood chips; preheat smoker to 180°F.
In a medium bowl, whisk the stock, juices, oil, and reserved rub.
Smoke the catfish on the top rack of the smoker at 180°F for 1 to 1½ hours. Apply marinade with the mop every 20 minutes. The catfish is done when it is flaky and white on the inside.
Coconut Shrimp with 2-Ingredient Dipping Sauce
Recipe and image courtesy of the National Shrimp Council and Natasha's Kitchen.
"Coconut Shrimp are coated in plenty of coconut flakes for superior crunch and subtle tropical sweetness. Crisp on the outside with succulent juicy shrimp inside. Serve with an easy 2-ingredient coconut shrimp dipping sauce."
Coconut Shrimp:
1 pound large shrimp (21-25 count), peeled and deveined with tails left on
1/4 cup all-purpose flour
1/2 tsp garlic powder
1/2 tsp salt
2 large eggs
1 1/2 cups sweetened shredded coconut
1/2 cup panko breadcrumbs
Light olive oil, vegetable oil or coconut oil
Coconut Shrimp Dipping Sauce:
1/4 cup sweet chili sauce
1/4 cup apricot preserves or apricot fruit spread
Rinse shrimp in cold water and pat dry with paper towels.
Set up 3 shallow bowls. In the first, stir together 1/4 cup flour, 1/2 tsp garlic powder and 1/2 tsp salt. In the second, add eggs and beat with a fork. In the third, combine 1 1/2 cups coconut flakes and 1/2 cup Panko bread crumbs.
Dredge shrimp in flour then dip in beaten egg and then finally dip in crumb mixture using your hands to press the coconut crumb mixture onto your shrimp. Transfer to a Reynolds parchment paper lined baking sheet and repeat with remaining shrimp.
Place a large non-stick pan over medium heat and add enough oil to generously cover the bottom. Once oil is hot, add shrimp and sauté 2-3 minutes, flip and sauté another 2 minutes until golden brown on both sides and shrimp is firm and pink then remove to a paper towel lined plate. Cook in batches and don't overcrowd the pan.
For the Dipping Sauce: Stir together 1/4 cup sweet chili sauce with 1/4 cup apricot preserves. Serve with coconut shrimp.