America loves popcorn. Did you know we eat over 15 billion quarts per year?  That's 47 quarts per man, woman, and child. With the Christmas Holidays just around the corner, consider gifting those you love or "hard to buy for" peeps gourmet popcorn.  Food gifts provide great comfort and joy no matter the occasion. There is no shortage of flavors to choose from or companies that offer gourmet popcorn delivered straight to those on your list. Instead of spending time wrapping gifts, send a festive holiday tin or gift basket filled with different flavored popcorn. Popcorn is a healthier alternative to the candy, cakes, and cookies that typically fill the holiday counters.
Have you ever wondered what the difference between regular popcorn and gourmet popcorn is? The corn we typically eat is different than the kernels that become popcorn. Only one variety of maize, Zea mays everta, can pop and turn into that light and fluffy delicious snack we all know and love. The old-fashioned method of making popcorn with hot oil in a heavy pan cannot be beaten.
The soil for gourmet popcorn is specially formulated to produce a chewier texture and can pop forty to sixty times larger than its original seed. Several products are used to flavor popcorn – from cheese to caramel to chocolate. Gourmet popcorn manufacturers are constantly seeking the next great flavors. Popular flavors range from spicy (jalapeno, siracha), sweet (caramel almond, salted milk chocolate) and savory (goat's cheese, black truffle).
Fun Facts About Popcorn 
The English colonists ate popcorn at the first Thanksgiving feast in Plymouth, Massachusetts. It was brought as a gift by the chief's brother. The colonists ate popcorn with milk and sugar. This is the first known breakfast cereal.
Kettle corn was introduced to the settlers in the early 1700's. They would pop it in large cast iron kettles using lard and whatever sweeteners such as molasses, sugar cane or honey.
Microwave popcorn was discovered in 1945 by Dr. Percy Spencer when he placed popcorn kernels near an active magnetron, and they popped. This led the way to the development of the microwave oven.
In 1949, popcorn was temporarily banned from movie theaters for being too loud of a snack. Popcorn sales dropped off when the television became popular in the 1950's. Movie theater attendance and the consumption of popcorn dropped when the public started making popcorn at home.
Nebraska produces the most popcorn in America, around 250 million pounds per year.
Interested in creating your own flavor mixes at home? You can buy popcorn kernels and make your own flavored popcorn. Popcorn provides the basis for many different recipes. You can keep it simple with a little bit of cheese, chocolate, or caramel or jazz things up with cinnamon, cayenne pepper, nutmeg, and many other flavor options. Check out these easy flavored popcorn recipes and experiment a little with your taste buds. Remember, popcorn is also a perfect snack while watching a movie, entertaining guests, or taking to the next tailgate party.
Mexican Popcorn
Courtesy of the Popcorn Board
"South of the border flavors make this popcorn perfect for the next tailgate or while entertaining guests on game day."
2 quarts popped popcorn
2 tablespoons butter, melted
1/2 teaspoon hot pepper sauce (or to taste)
1 teaspoon ground cumin
1 teaspoon chili powder
1/2 teaspoon dried oregano
1/2 teaspoon garlic powder
1/2 teaspoon salt
2 tablespoons roasted and salted pepitas (pumpkin seeds)
Place popcorn in a large bowl. Mix butter and hot pepper sauce and toss with popcorn. Mix remaining ingredients and sprinkle over popcorn. Toss again and serve.
Gouda Popcorn
courtesy of Parrano
"The deeply satisfying crunch of popcorn gets a jolt of nutty, salty and sweet flavor from a few spices and the Parrano cheese, produced in the Netherlands, that blends Gouda with Parmesan."
1 bag plain popcorn (no butter/no salt)
½ cup Parrano Originale cheese, grated with microplane grater
2 teaspoons dried rosemary
1 teaspoon season salt (such as Lawry's)
dash freshly ground pepper
Cook the popcorn according to the directions. While popping, toss together the Parrano cheese, rosemary, and season salt. Add the popped, hot popcorn to a large bowl. While mixing the popcorn with a wooden spoon, sprinkle over the cheese mixture until coated. Dig in.
Caramel Almond Popcorn Clusters
Recipe and photo courtesy of the Popcorn Board
"These popcorn clusters are bursting with sweet, nutty flavors that are perfect for entertaining a group, giving as a gift or just enjoying at home!"
10 cups freshly popped popcorn
2 cups whole almonds
1 cup firmly packed light brown sugar
1/2 cup butter or margarine
1/4 cup light corn syrup
2 teaspoons vanilla
1 teaspoon almond extract
1/2 teaspoon baking soda
Preheat oven to 225°F. Spray a 10- x 15-inch baking sheet with non-stick spray. Mix popcorn and almonds in a large bowl.
Combine brown sugar, butter and corn syrup in medium saucepan. Over low heat, stir mixture until sugar dissolves. Increase heat to high, and boil 5 minutes. Remove from heat; stir in vanilla, almond extract and baking soda.
Pour over popcorn and almonds, immediately stirring gently to coat. Pour mixture onto prepared baking sheet, spreading evenly.
Bake for 1 hour in preheated oven. Cool completely. Break into pieces, and store in airtight container.
Blazing Buffalo Ranch Popcorn Seasoning Mix
Courtesy of the Popcorn Board
"Add a kick of spicy flavor to popcorn with this super easy ranch-style seasoning mix. Sure to be a hit at the next tailgate party or while entertaining friends and family."
1 tablespoon ranch dressing or dip mix (from a 1-ounce package)
1 tablespoon seafood spice mix (or celery salt)
1 teaspoon garlic powder
1 teaspoon powdered sugar (or sugar)
1/8 teaspoon cayenne pepper
1/4 teaspoon vegetable oil
6 quarts popped popcorn
Cooking spray, optional
In a small bowl, blend ranch dressing mix, spice mix, garlic powder, powdered sugar and cayenne pepper. Sprinkle with vegetable oil and blend until well incorporated.
Place popcorn in a serving bowl, and spray lightly with cooking spray. Sprinkle seasoning mix over popcorn to taste, and toss. Store leftover seasoning mix in an airtight container for future use.
Colman's Spicy Chocolate Popcorn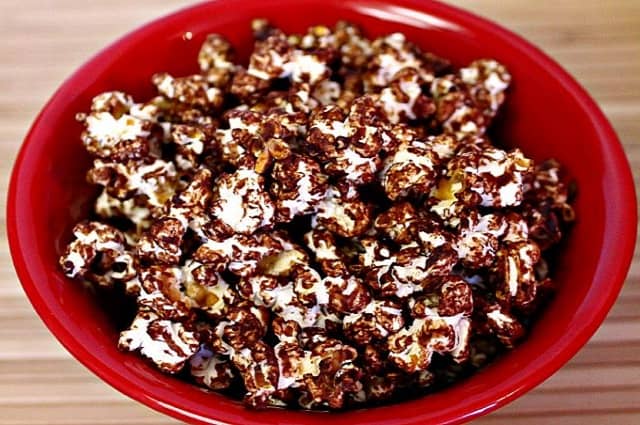 Recipe courtesy of Colman's Mustard
"Popcorn is always a great snack to munch on. Take your taste buds by surprise with this spicy chocolate treat!"
1 bag buttered popcorn
1/2 cup semi-sweet chocolate chips
1/4 cup milk
2 teaspoons Colman's Mustard
1 tablespoon light Karo syrup
Pop the popcorn according to package directions. In a small saucepan, add chocolate chips, and heat on low. Add the milk, and stir constantly until the chocolate is melted and smooth. Add the mustard and the Karo syrup. Mix well. Dump the popcorn into a bowl, and pour chocolate mixture over popcorn. Mix well, and let it sit until it cools, then serve.
Bacon Jalapeño Popcorn
Excerpted from GUY FIERI FAMILY FOOD by Guy Fieri. Copyright © 2016 by Guy Fieri. Reprinted by permission of William Morrow, an imprint of HarperCollins Publishers.
"I love the old school sound of corn popping on the stovetop. For more flavor and the much-deserved anticipation, there is nothing like the stovetop method. For the best results use a heavy-bottomed pot with a tight-fitting lid and a good handle."
1/2 pound applewood smoked bacon, cut into 1/4-inch dice
3 jalapeños, seeded and cut into thin rings
3 tablespoons extra-virgin olive oil
1 cup popcorn kernels
3/4 ounce Parmesan cheese, grated (about 1/4 cup)
1 teaspoon kosher salt
Set a large, heavy-bottomed pot over medium heat. Add the bacon and cook until crispy and browned and the fat has rendered, about 8 minutes. Add the jalapeños to the pot and stir well. Cook for 2 minutes, or until the jalapeños are charred. Line a plate with a paper towel and use a slotted spoon to transfer the bacon and jalapeños to the plate. Set aside. 
Add the olive oil to the pot and increase the heat to high. Add the popcorn kernels and toss well to coat them in the oil. Spread the kernels evenly on the bottom of the pot, then cover the pot with the lid. When the first kernels start to pop, very slightly uncover the pot. Shake the pot back and forth directly over the heat. Cook until the kernels stop popping, 2 to 3 minutes. 
Remove the pot from the heat and pour the popcorn into a large bowl. Add the reserved bacon and jalapeños and the Parmesan and salt. Toss well to mix. Serve warm.