Fall brings us crisp and cooler temperatures that's perfect for sitting around the outdoor firepit or cheering on our favorite football teams with friends and family. The best part of game-day is the tailgate of course. Whether you are at the game or throwing a football watch party at home, here's a few cocktails to keep your tailgating spirits running high! We recommend that you try a fall whiskey cocktail.
Bourbon and Brew
Courtesy of Fitz Bailey, Coopers' Craft Mixologist
1.5 oz Coopers' Craft Bourbon
6 oz Your favorite pumpkin beer or local brew
Rim glass with pumpkin pie spice and brown sugar. Pour bourbon in pint glass and top with your favorite chilled beer.
Tailgate Tea Cocktail
Courtesy of Natalie's Orchard Island Juice Co, orchidislandjuice.com
"Kickoff the next tailgate or football watching party and serve this cocktail. Depending on the tailgate crowd, you might want to double the recipe!"
Brew black according to package and add to a large pitcher.  Stir in orange juice, lemon juice and bourbon. Add in fresh orange and lemon slices. Serve immediately over ice or let sit in fridge for up to 6 hours. Garnish glasses with fruit slices and sprigs of mint.
Orchard Toddy
Photo and recipe courtesy of Angry Orchard and mixologist Jeremy Oertel
"The Crisp Apple flavor is one of Angry Orchard's core ciders and is made from traditional cider apples for a blend of sweetness and bright acidity, just like biting into a fresh apple. Angry Orchard partnered with mixologist Jeremy Oertel to create this delicious cocktail. It's perfect for your next tailgate!"
1 bottle Apple Orchard Cinnful Apple
4 1/2 ounces Scotch or Irish Whisky
2 1/4 ounces lemon juice
3 ounces Honey Ginger Syrup (recipe follows)
3 ounces water
For the Honey Ginger Syrup:
2 cups honey
1 cup water
2 tablespoons finely chopped peeled ginger
Add all ingredients to a crockpot and set on low heat. Allow to heat up and then serve and garnish with a lemon wheel studded with cloves. If using a stovetop, add all ingredients to a small saucepan and simmer over low heat. Be careful not to allow the mixture to get too hot, because the alcohol will boil off .
Honey Ginger Syrup:
Peel the ginger and then finely chop. Add all ingredients to a pot and cover. Simmer over medium to low heat for 20 minutes. Strain and allow to cool. Store in the refrigerator.
Jameson Irish Whiskey Night Out
Image: Homemade Irish Coffee with Whiskey, Depositphotos, bhofack2
"A cocktail of sweetened coffee, Irish whiskey and whipped cream that is not only acceptable but also expected as a morning treat on holidays!"
2–3 ounces hot coffee
1 ounce Jameson Irish Whiskey
1/2 ounce Santa Teresa Araku Coffee Liqueur (or another coffee liqueur)
1 teaspoon brown sugar
Whipped cream (optional)
Cinnamon sugar (optional)
Combine whiskey, coffee, coffee liqueur and brown sugar in a heat-tempered mug. Garnish with whipped cream and a dusting of cinnamon sugar.
Pumpkin Toddy
adapted from liquor.com
"Warm the belly and soul with this spiked Pumpkin Spice Hot Toddy. The perfect cocktail to sip on cold winter nights!"
1 ounce apple brandy
½ ounce rye whiskey
½ ounce fresh lemon juice
½ ounce Grade B maple syrup
1 teaspoon pumpkin purée
2 drops Angostura bitters
5 ounces boiling water
grated cinnamon
Warm a mug (fill with water, microwave for 1 minute, empty and dry). Add all the ingredients except the water. Pour in the boiling water and stir thoroughly. Top with grated cinnamon, add whipped cream, if desired, and serve immediately.
Lady Sangria Cocktail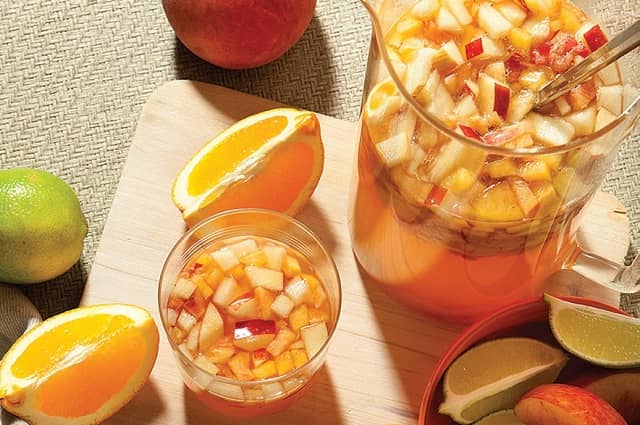 Copyright© 2016 by Ronaldo Linares. From Chef Ronaldo's Sabores de Cuba. Photography: Kelly Campbell Photography. Reprinted with permission from The American Diabetes Association. Available at ShopDiabetes.org and in bookstores nationwide.
"A few years back, I developed this recipe for a tasting dinner I put together for my amazing wife's birthday. The different fruits used represent the beauty that is my wife, and the dark rum represents yours truly. Serve this wonderful cocktail at your next tailgate!"
1 750-ml bottle white wine
2 peaches, chopped
1 apple, cored and chopped
4 ounces raspberries, lightly muddled
4 ounces triple sec
3 oranges, juiced
1 tablespoon lime juice
4 ounces gold rum
2 cups diet tonic water
In a large vessel, add wine, peaches, apple, raspberries, triple sec, orange juice, lime juice, and rum and stir. Let the sangria sit in the fridge for a couple of hours before serving. Add the tonic water just before serving it to your guests.