Looking at an early kickoff, but still wanting to have a morning cocktail? That's okay. You are not the first to face the issue of wanting to serve booze with breakfast. A man in New Orleans by the name of Owen Brennan coined the slang term "eye-opener cocktails" back in the late 1940s. Now, "Breakfast at Brennan's" is a must for any visit to the Crescent City.
The most famous early-day cocktail is probably the Bloody Mary. Her history dates back to the 1920s in Paris, France. Yet most people forget that there are plenty of brunch tipples beyond it. A few other popular classics are the Bellini, the Mimosa and the Irish coffee, the Pimm's Cup and the Brandy Milk Punch.
Here are a few tips and recipes to consider as you plan the cocktail menu for the next early game day tailgate party.
Start slow, keep alcohol low. Using liqueurs as a base to the drink—instead of a straight spirit like whiskey or gin—will keep your proof about a fourth to half as strong. They also add a refreshing, light note that's easier to consume first thing in the day.
Great liqueurs to build cocktails: Pimm's No. 1 or No. 2, Domaine de Canton Ginger liqueur, Solerno Blood Orange liqueur, St. Germain Elderflower and Campari.
Don't forget coffee and tea. You can add a half-ounce or an ounce of rum, whiskey or a liqueur like Bailey's to a cup of coffee. You can also brew tea as a base for an early cocktail. Both coffee and tea also work great iced in cocktails.
Chop and muddle some fruit or use a blender. Fruit is a no brainer first thing in the morning, and you can pair your cocktails with a fresh fruit salad.
Champagne cocktails are a perfect fit. Brighten the atmosphere while keeping the alcohol percentage at a lower wattage. Plus, Champagne tastes delicious with bacon.
The Classic Bellini
"Created in the late 1940's by Giuseppe Cipriani at Harry's Bar in Venice, this cocktail's light-pink hue reminded the bartender of a saint's robe in a painting by Giovanni Bellini, and he named it for the artist."
2 ounces of fresh, white peach purée
3 ounces of Prosecco
Put white peach puree in the bottom of a Champagne flute and top with Prosecco.
Joe Sheridan's Original Irish Coffee
Courtesy of Irish Central, irishcentral.com
"Irish coffee was brought to America by Stanton Delaplane, a travel writer for the San Francisco Chronicle, after sampling the drink by Sheridan at the Shannon Airport bar. Delaplane convinced Jack Koeppel, owner of the Buena Vista Cafe in San Francisco to put Irish coffee on the menu. The Buena Vista Cafe now serves up to 2,000 Irish coffees per day."
2 sugar cubes
1 ½ ounces Tullamore Dew Irish Whiskey
6 ounces brewed coffee
heavy cream, lightly whipped
Fill a glass with very hot water to preheat the vessel, then empty. Pour the hot coffee into the glass. It should be about three-fourths full. Drop in the sugar cubes. Stir until sugar is completely dissolved. Add whiskey. Top with a collar of lightly whipped cream by pouring gently over a spoon. The coffee concoction should be sipped through the floating cream.
The Classic Mimosa
"Created in Paris at the Ritz hotel, the Mimosa is believed by many to be a ripoff of the original Buck's Fizz, which is essentially an older recipe for Champagne and orange juice, only with a higher ratio of orange juice and the addition of grenadine. Many drink experts also like the addition of Grand Marnier when making a true Mimosa. Regardless, freshly squeezed orange juice is a must for this cocktail."
3 ounces fresh orange juice
2 ounces Champagne
Teaspoon of Grand Marnier
Combine orange juice and Grand Marnier in a Champagne flute and top with Champagne.
The Bloody Caesar
Courtesy of Brenarsky's Bloody Mary & Caesar Seasoning
"If you head to Canada and request a Bloody Mary, you are likely to get their version, known as a Caesar. It's the cousin of the Mary, but it's based around the addition of Clamato clam juice, which adds a spicy, savory kick."
2 ounces vodka
1 teaspoon Brenarsky's Bloody Mary & Caesar Seasoning
8 ounces Clamato juice
Garnishes: celery sticks, pickles, green olives, pepperoni, or asparagus
Combine Brenarsky's seasoning with Clamato juice, vodka and ice in a shaker and shake. Pour the mixture into a tall, ice-filled glass and garnish with your favorite vegetables.
The Ramos Gin Fizz
Courtesy of New Orleans bartender, Michael Glassberg
"This New Orleans classic was coined in 1888 by the Ramos brothers, who owned and operated the Meyer's Table d'Hotel Internationale bar. You should always "dry shake" any drink with egg white which means simply shaking first without ice. Then follow with another hard shake with ice. Dry shaking helps emulsify the egg white into the other ingredients and also creates the lovely foam on the top of the cocktail."
2 ounces gin
½ ounce fresh lemon juice
½ ounce fresh lime juice
½ ounce simple syrup
1 ounce heavy cream
3 dashes Orange Flower
Water
2 drops vanilla extract
1 egg white
Soda
1 orange twist, for garnish
Add egg white and cream to shaker without ice. Dry shake. Add remaining ingredients except for soda and dry shake again. Add ice. Shake hard for one full minute and strain into Collins glass. Top with soda. Garnish with an orange twist.
The Melon Felon
Courtesy of Josh Schaff, Satterfield's in Birmingham, Alabama
"Serve this boozy watermelon juice cocktail to Kick-off the next early morning tailgate party."
1¼ ounces vodka
1¼ ounces fresh watermelon juice, strained
¾ ounce fresh squeezed orange juice
¼ ounce fresh squeezed lemon juice
2 dashes Angostura bitters
1 teaspoon orange marmalade
1 slice fresh watermelon,for garnish
1 orange twist, for garnish
Add all ingredients to a shaker and stir. Strain over ice in a lowball glass. Garnish with a slice of fresh watermelon and an orange twist.
The Blackberry Bourbon Lemonade
Courtesy of Robert Ortenzio, Yardbird Southern Table & Bar in Miami
"Yardbird boasts a seriously impressive bourbon list. Their menu also includes fun bourbon flights and cocktails. One of their popular bourbon cocktails is this blackberry lemonade with a kick!"
1 1/2 ounces Buffalo Trace Bourbon
1/2 ounce fresh lemon juice
1/2 ounce organic blackberry purée
1/2 ounce simple syrup
Dash of aromatic bitters
1 cardamom pod
Sparkling wine
Mix all ingredients except the sparkling wine together in a shaker over ice. Shake and pour into a glass over fresh ice and top with sparkling wine.
Maya's Bloody Maria with Sangrita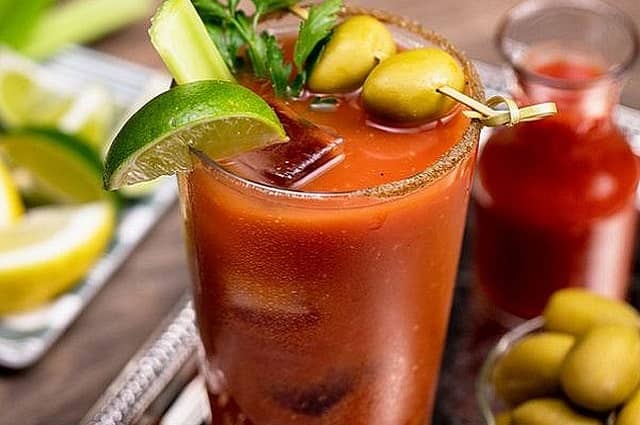 Courtesy of General Manager Josue Mendez, Richard Sandoval's Tequileria Maya, New York City
"Put a spin on the classic Bloody Mary and serve this Mexican version that's made with tequila instead of vodka."
1½ ounces silver tequila
2 dashes Tabasco
3 dashes Worcestershire sauce
1 teaspoon horseradish
1 teaspoon celery salt
1 splash lime juice
1 splash grapefruit juice
3 ounces fresh tomato juice
Garnish: olives and lime wedges
Combine all ingredients with ice in a mixing glass and gently stir. Pour into Collins glass over fresh ice and garnish with olives and a lime wedge.