For Texans, chips and salsa don't need an introduction. We've all been guilty of spoiling our supper when one chip becomes a hundred. Of course, the preferred salsa-shoveling vehicle is tortilla chips.
This essential American party snack is something out of the ordinary in Latin America, where instead of a standalone, it's included inside a variety of dishes. Salsa has been around for thousands of years. Its history can be traced to the Aztecs, Mayans and Incas who used various combinations of chilies, tomatoes and other spices as a type of condiment to give their food more flavor.
Salsa didn't spread outside of Central American cuisine until the Spaniards arrived and conquered Mexico, between 1519 and 1521. Even then, the tomato-based condiment didn't have a commonplace name. In 1571, a Spanish priest, missionary, and grammarian gave it the simple name salsa. Directly translated from Spanish, "salsa" simply means "sauce."
Although bottled hot sauces like Tabasco were already making their way to the table by the late 1800s, salsa as a dip began to take hold in the early 1900s, when they found their place in community cookbooks. By the Forties, salsa had taken hold throughout the Southwest and quickly became a staple in metropolitan kitchens.
Texas played a pivotal role in salsa's history, debuting brands like El Paso Chile Company, Renfro Foods and Pace Foods. In 1979, Dan Jardine of Jardine Foods named Austin the hot sauce capital of America. From there, more and more companies jumped on the salsa production train, sharply increasing consumption in the late Eighties and early Nineties. Salsa became a staple in American food culture – even outselling condiments like ketchup.
Tomato-based salsas later found competition from salsas made with fruit, corn, or black beans. Since the 2000s sweet salsas combining fruits with peppers like habanero, bonney peppers and datil pepper have grown in popularity. Salsa is used in marinades, salad dressings, stews, and cooked sauces. It can also be used to accompany various fish, poultry, and meat dishes.
While jarred salsas can be good, fresh salsa is downright delicious. Its blend of fresh ingredients is guilt-free, except for a little extra added salt. One of the great things about salsa is that it is fun to make. Here are 6 great salsa recipes to pick from and serve at your next tailgate or backyard barbecue with friends and family.
Grill-Roasted Tomatillo Salsa
Excerpted from
The Gardener & the Grill
by Karen Adler & Judith Fertig, Running Press, May 2011
"Sharp and citrus-tasting, tomatillos are most often used to make a fresh salsa, usually served with chips or chicken, pork and fish. Tomatillos have papery husks that enclose the small fruits; remove the husks before using."
Vegetable oil, as needed
1 ½ pounds fresh tomatillos
½ cup freshly chopped cilantro
1 jalapeño pepper, stemmed and seeded
1/3 cup fresh lime juice
Kosher or sea salt to taste
Prepare a medium-hot fire in your grill. Oil a perforated grill rack and place on the grill grates.
Remove the husks from the tomatillos and discard. Arrange the tomatillos on the perforated grill rack in a single layer. Cover and grill-roast, turning once until lightly browned, about 20 minutes. Let cool.
In a blender or food processor, place the cooled tomatillos, cilantro, jalapeño and lime juice. Process until somewhat smooth. Add salt to taste. Will keep, covered, in the refrigerator for up to 3 days.
Fresh Pineapple Salsa
Courtesy of Whole Foods Market
"The tropical flavors of pineapple and lime combined with red onion, cilantro and serrano pepper for a salsa that's great with grilled pork, skirt steak, shrimp or tofu. It's also delicious with tortilla chips or spooned over tacos. For the best flavor, make at least 30 minutes ahead of time to allow the flavors to mingle."
2 cups diced fresh pineapple
1/2 cup chopped cilantro
1/4 cup finely chopped red onion
1 serrano pepper, stemmed, seeded and finely chopped
Juice and zest of 1 lime
1/8 teaspoon sea salt
Toss all ingredients together in a large bowl. Serve immediately or cover and chill until ready to use.
Fresh Pico de Gallo Salsa
"Homemade Pico de gallo is the best! A simple salsa recipe made with chopped fresh tomatoes, chili peppers, red onion, cilantro, and lime. Eat it fresh with tortilla chips or serve as toppings for tacos and fajitas. Use firm, fleshy tomatoes ike Romas or hothouse tomatoes."
3-4 medium large tomatoes (1-1 ½ pounds), stems removed, some seeds squeezed out, diced
1/2 large red onion, diced
1–2 jalapeño chili peppers (stems, seeds, ribs removed), very finely diced
1–2 serrano chili peppers (stems, seeds, ribs removed), very finely diced
Juice of one lime
1/2 cup chopped cilantro
Salt and pepper to taste
Dice the tomatoes, discarding most of the seeds. Dice the onion. Very finely dice the chili peppers. Immediately wash your hands with soap and hot water; avoid touching your eyes. Reserve some of the chili pepper seeds. The seeds may be added at the end for additional heat.
Juice the lime and chop the cilantro. Combine all the ingredients. Taste and adjust the heat with the additional chili pepper seeds. Should the salsa be too hot, adjust by adding more diced tomatoes.
Allow the flavors to combine for at least one hour. Refrigerate until ready to serve. Mix well and serve.
Chile de Arbol Roasted Tomato Salsa Base
Recipe courtesy of Cacique®
"This salsa can be served at room temperature or slightly chilled. It can be stored in the refrigerator 3 to 5 days, or frozen for weeks."
1 pound Italian Roma tomatoes
1 cup (30–40) Arbol chiles
2 tablespoons of olive oil
1 medium white onion, chopped
4 garlic cloves, crushed
1 cup of roughly chopped cilantro
2 cups water
1 teaspoon salt
1/2 teaspoon freshly ground black pepper
Preheat broiler. Place tomatoes on a baking sheet. Broil, turning occasionally until charred all over, 10 to 12 minutes. Toast Arbol chiles in a dry skillet until smoking over medium heat about 5 minutes. Set aside.
In the same skillet add the olive oil and sauté onion and garlic for 12 to 15 minutes or until onions are golden. Transfer tomatoes, chiles, onion mixture and cilantro to a blender. Puree mixture adding 1/4 cup water at a time until mixture is salsa consistency.
Place in serving dish and garnish with cilantro.
Mango Mint Salsa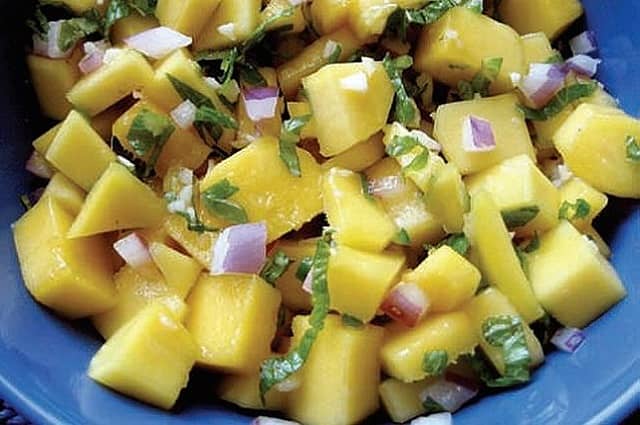 Courtesy of Beth Anthony
"This salsa is particularly good with grilled fish, like halibut. If you have it out before you grill and chips are nearby, beware you may not have any to serve with the fish. Surprisingly, watermelon is a fabulous substitute for the mango."
2 mangos ripe yet still firm, diced (see tip below)
1/2 cup red onion diced
1 teaspoon garlic very finely diced
1 teaspoon jalapeño pepper (or more to taste), very finely diced
1 lime both the zest and juice
3 tablespoons mint julienned (see tip below)
1 tablespoon olive oil (optional)
Combine all the ingredients and mix well. Allow at least 30 minutes for the flavors to combine. If you plan to serve the following day, add an additional tablespoon of mint just before serving.
Tip: A mango has a large seed that is an oval shaped disc. Stand the mango upright and cut from top to bottom removing one side of the mango. Then remove the other side. With a pairing knife, score the flesh of the mango both vertically and horizontally, but don't cut through the skin. When the flesh is totally scored, push the skin side out making the scored flesh side stick up. With the pairing knife, remove the scored flesh, releasing the diced mango. Repeat on the other half.
Tip: To julienne the mint, remove the leaves from the stem. Select the largest leaf and stack the other leaves on top. Roll the large leaf like a cigar. With a very sharp knife cut the mint cigar into thin strips.
Chilaquiles Verdes con Salsa Verde
Courtesy of Cacique®
"Crisp tortillas slathered in homemade salsa verde. Add fresh toppings like Cotija cheese, Mexican crema, onions, and cilantro for the most delicious and authentic flavors. Serve with eggs, refried beans or shredded chicken.
"
Salsa Verde:
4-6 medium tomatillos (about 1-pound total weight). husks removed and rinsed
1 serrano or jalapeno chile, stemmed
1/2 white onion, halved again
2 garlic cloves
1/2 bay leaf
Pinch of dried oregano
1/2 teaspoon salt
1/4 cup low-sodium chicken broth
1 tablespoon olive oil
Chilaquiles:
1/2 cup shredded Cacique® Oaxaca cheese (food processor recommended)
2 tablespoons Cacique® Queso Fresco
Crumbled Cacique® Crema Mexicana for garnish
Vegetable oil for frying
12 6-inch corn tortillas or pre-made Chilaquiles strips
3 tablespoons finely chopped white onion
1 tablespoon finely chopped fresh cilantro
Salsa Verde: Put the tomatillos, chile, onion and garlic in a medium pot and add water to cover. Bring to a boil over high heat. Reduce the heat to medium-low and simmer until the vegetables are soft and the tomatillos turn pale green, 15 to 20 minutes. Remove from the heat and let cool slightly. 
Carefully transfer the boiled vegetables, along with the cooking water, to a blender. Puree for a few seconds to blend; be sure to hold down the lid with a kitchen towel for safety. Add the 1/2 bay leaf, oregano, salt and broth. Continue to puree until smooth. You should have about 1quart of salsa verde. Place a wide pot or pan over medium-high heat and coat with the olive oil. When the oil is hazy, pour in the salsa verde; it will bubble a bit. Reduce the heat to medium and simmer, stirring occasionally, until the sauce is slightly thickened, 10 to 15 minutes. Cover, reduce the heat to very low, and keep warm while you finish the chips. 
To finish the chilaquiles, uncover the salsa verde and raise the heat to medium. Immediately add the chips, tossing gently until they have absorbed enough sauce to become soft. Take care not to break the chips. Sprinkle the Oaxaca cheese on top and let it melt. 
Divide the chilaquiles among 4 plates. Sprinkle with the queso fresco, chopped onion and cilantro. Garnish with the Cacique Crema Mexicana and serve immediately.
Chilaquiles: If using corn tortillas, pour the vegetable oil into a heavy­ bottomed pot or countertop deep fryer to a depth of about 2 inches and heat to 375°F over medium-high heat. Stack the tortillas and fan them with your thumb to separate. Cut the tortillas into 8 wedges like a pie. Working in batches, fry the tortilla chips, turning them with a skimmer or slotted spoon so they don't stick together, until golden brown, about 2 to 3 minutes.  Remove the chips to a paper towel-lined baking pan or brown paper bag to drain and cool. (Let the oil return to the proper temperature between batches.)