When it comes to the biggest game of the year, do you have all your game snack plays ready? Your Super Bowl party menu is vital. Your guests will not complain about the comfort-food classics of wings, dips, chili, and subs.
How do these sound: Peanut butter and jelly wings, Bacon blue cheese dogs, and ultimate hot Baltimore crab dip?  Delicious huh?  We've got recipes for these and more to satisfy even the pickiest of football fans.
If you're not sure what Super Bowl food to prepare, we got you covered with this collection of Super Bowl party food recipes. Get ready to wow your guests before the players even hit the field!
Which of these Super Bowl party foods will you be making for the big game?
Peanut Butter and Jelly Wings
Reprinted with permission from
Hardcore Carnivore
by Jess Pryles, Agate Surrey, 2018
"It sounds a little strange but, trust me, these flavors will make sense to your taste buds. The peanut butter creates a rich, thick coating while the jelly helps the wings caramelize on the grill. They are an easy way to feed a large crowd, too."
2 pounds chicken wings
kosher salt
4 tablespoons strawberry jelly
2 tablespoons smooth peanut butter
1 teaspoon sriracha
2 tablespoons Worcestershire sauce
2 tablespoons light brown sugar
2 teaspoons paprika
2 tablespoons chopped peanuts
Put the chicken wings in a large, resealable plastic bag and season well with salt.
In a bowl, mix together the jelly and peanut butter. Add the sriracha, Worcestershire sauce, brown sugar and paprika, and mix thoroughly. Pour the marinade into the bag, and massage the bag gently to distribute the marinade over all the chicken wings. Place the bag in the fridge to marinate for at least 2 hours, or preferably overnight.
Heat a grill to medium. Place the wings on the grill and cook, turning them every 2–3 minutes. This should allow the color to develop without burning before the chicken is cooked all the way through. Continue to turn the wings until they are nicely browned with charred areas.
Place on a tray to cool slightly. Sprinkle with chopped peanuts for a textural garnish.
Know your cuts: It's better to use wings that have been jointed into wingettes and drumettes. A whole, three-joint wing will take longer to cook, and the delicate wing tips burn very easily.
Bacon Blue Cheese Dogs
Recipe courtesy of Chef David Burke
"Serve these tasty little puppies for a unique grilled appetizer at your next tailgate!"
The Dogs:
1 pound Kobe beef cocktail franks (any high-quality cocktail frank will do)
1 pound sliced bacon
1 cup blue cheese
1 sheet of puff pastry
2 tablespoons jalapeño peppers, minced
Eggs, for egg wash
The BBQ Sauce:
1 cup brown sugar
1 cup honey
2 cups red wine vinegar
1 teaspoon cumin
1 teaspoon coriander seed
1 teaspoon celery seed
1 teaspoon chili powder
2 teaspoons paprika
1/2 cup soy sauce
1 cup Samuel Adams Boston Lager (approximately 3/4 of a bottle)
32 ounces ketchup (a little more than two 12-ounce bottles)
12 ounces chili sauce
Juice and zest of 1/2 lemon
Juice and zest of 1/2 orange
1/2 bunch cilantro
Salt and pepper, to taste
For the Bacon Blue Cheese Dogs: On a baking tray, cook the bacon at 375°F for about 12 minutes, until slightly brown but still pliable. Remove from oven, and allow to cool.
Before rolling the cocktail franks in puff pastry, mash together the blue cheese and minced jalapeño peppers. Crumble this mixture onto the puff pastry. Cut the puff pastry into 1 1/2-inch-wide strips, wide enough to roll a cocktail frank and leave a 1/2-inch overlap per frank, and place a piece of cooled bacon on top. Begin rolling the first Pig in a Blanket, leaving enough puff pastry to fold over and seal the cocktail frank. Brush the ends of the puff pastry strip with egg wash to seal over the cocktail frank. Continue rolling the cocktail franks in the puff pastry, cutting and sealing as you go. Place the rolled Pigs in a Blanket, seam-side down, on a parchment-lined sheet tray, and brush with egg wash. Bake at 375°F for 15 minutes, or until golden brown.
For the Samuel Adams Boston Lager BBQ Sauce: In a heavy-bottomed pot, toast all of the dry spices (cumin, coriander seed, celery seed, chili powder, paprika) over medium-low heat. Once the spices are toasted (you'll begin to smell their aroma), add the honey and brown sugar, and cook until it begins to caramelize. Once the mixture begins to caramelize, add the red wine vinegar, ketchup, soy sauce, chili sauce, Samuel Adams Boston Lager, lemon juice and zest and orange juice and zest, and reduce until the mixture thickens. Season the mixture with salt, pepper and cilantro. Let it stand for two hours, and then strain through a fine-mesh, conical sieve. Place in a serving bowl, and serve room temperature to warm as a dipping sauce for the Bacon Blue Cheese Dogs.
Grilled Sticky Wings with Orange & Jalapeño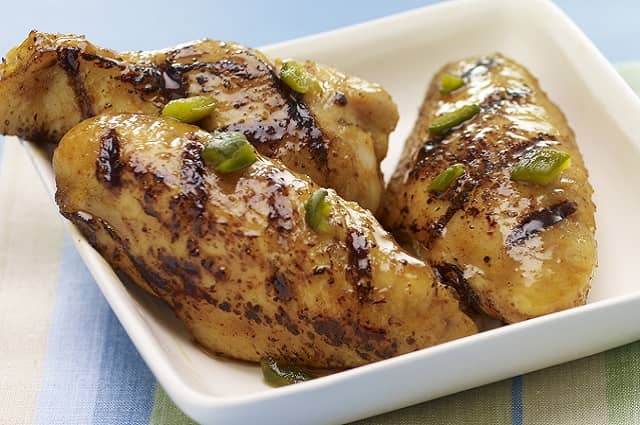 courtesy of McCormick®, McCormick.com
"These finger-licking wings are sure to be a hit at your next tailgate party!"
2 pounds chicken wing pieces
3/4 cup Lawry's® Sweet Southern BBQ Marinade with Lawry's® Seasoned Salt
1/2 cup honey
1/2 cup orange juice
2 medium jalapeño peppers
Place the chicken wings in a large resealable plastic bag or glass dish. Add marinade; turn to coat well. Refrigerate 30 minutes or longer for extra flavor. Mix honey and orange juice in large bowl. Set aside. Remove chicken wings from marinade. Discard any remaining marinade.
Grill chicken wings over medium heat 20 to 25 minutes or until cooked through, turning occasionally. Grill jalapeños until slightly charred and softened, turning occasionally. Cool slightly. Peel off charred skin. Seed and finely chop jalapeños. Stir into honey mixture. Add grilled chicken wings; toss to coat well.
Ultimate Hot Baltimore Crab Dip
Excerpted from
Cooking with Frank's® RedHot® Cayenne Pepper Sauce
, by Rachel Rappaport. Photography by Judi Swinks. ©2014 Ulysses Press. Used with permission.
"No party is complete without bubbling, cheesy crab dip. Kick it up a notch with the addition of Frank's RedHot Original Cayenne Pepper Sauce!"
1 cup blue crab claw meat
1 cup lump blue crab meat
1 cup cream cheese, at room temperature
3/4 cup sour cream
1/4 cup Frank's® RedHot® Original Cayenne Pepper Sauce
2 1/2 tablespoons mayonnaise
1 1/2 tablespoons Chesapeake Bay seasoning
1/2 tablespoon Worcestershire sauce
1/4 teaspoon garlic powder
1/4 teaspoon freshly ground black pepper
1 shallot, minced
3/4 cup shredded sharp cheddar cheese
Preheat oven to 350°F. In a medium bowl, stir together both crab meats, cream cheese, sour cream, Frank's® RedHot® Original Cayenne Pepper Sauce, mayonnaise, Chesapeake Bay seasoning, Worcestershire sauce, garlic powder, black pepper and shallot until smooth.
Spread the mixture into an 8- x 8-inch baking dish. Sprinkle with the cheddar cheese in an even layer. Bake uncovered until the cheese is melted and the dip is warmed through, about 15 minutes. Serve immediately with crackers, chips or bread.
Cheese "Burker" Sliders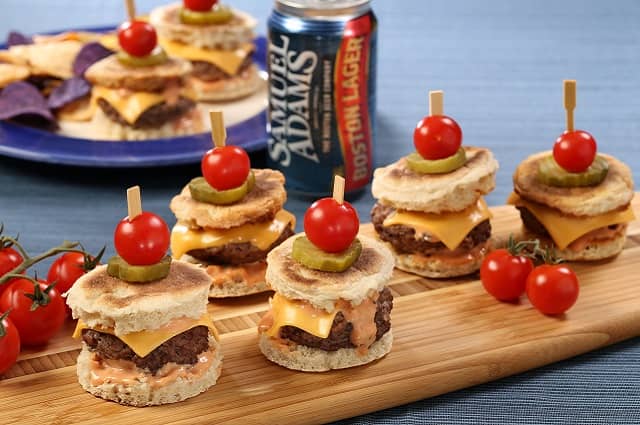 Recipe by Chef David Burke, photo courtesy of Samuel Adams Boston Lager
"No party is complete without bubbling, cheesy crab dip. Kick it up a notch with the addition of Frank's RedHot Original Cayenne Pepper Sauce!"
For the Burgers:
20 small burger buns or English muffins, halved
40 ounces ground beef
4 bottles Samuel Adams Boston Lager
Sliced pickles
40 slices American cheese, cut in 1-inch x 1-inch pieces
20 tomato skewers
For Ketchup:
2 cups ketchup
2 cups mayonnaise
4 tablespoons Boston Lager
Preheat oven to 350°F. Slice English muffins in half. Scoop out half of the bread on the bottom portion. Fill with two ounces ground beef that has been tossed with Samuel Adams Boston Lager. Place on sheet pan upside down (on meat side), and brown meat in oven for 3 minutes. Remove from oven, and top meat with cheese, thinly sliced pickles and top of English muffin. Heat in oven for 5 minutes. Remove from heat, and skewer with tomato. Serve immediately.
For the Boston Lager Ketchup, mix together all ingredients, and serve with sliders!
Meatball Jalapeño Poppers
Courtesy of Casa De Bertacchi, casameatballs.com
"Serve these up at your next party on the patio or parking lot!"
13 jalapeños, stemmed
1 8-ounce package cream cheese, softened
13 frozen, fully cooked Casa Di Bertacchi meatballs, thawed
13 slices (1 pound) sliced bacon, cut in half
Preheat oven to 375°F.  Slice each pepper in half lengthwise, remove the seeds, and rinse out. Spread cream cheese in each jalapeño half.
Cut the meatballs in half. Place each meatball half, cut side down, over the cream cheese. Wrap a half slice of bacon around each stuffed jalapeño and secure with a toothpick.
Place on a baking sheet and bake 25 to 30 minutes, or until bacon is browned. Serve immediately on a platter.
Note: Use plastic gloves when cutting and preparing peppers to prevent skin irritation.
Woodbridge Caramelized Onion Dip
Photo and recipe courtesy of Woodbridge by Robert Mondavi
"Serve these up at your next party on the patio or parking lot!"
3 tablespoons unsalted butter
1 large onion, sliced into half rings
1 teaspoon salt
1/4 teaspoon nutmeg
1/2 teaspoon pepper
1 tablespoon Woodbridge by Robert Mondavi Cabernet Sauvignon
8 ounces cream cheese, room temperature
1/2 cup sour cream
1/2 cup plain yogurt
2 tablespoons chives, chopped
Melt butter over medium-low heat, and then add onions, salt, pepper and nutmeg. Slowly caramelize the onions by letting them sit for about 3 minutes and then stirring. Do not allow the onions to burn. If the pan gets too dry, add a small amount of water.
When the onions are a rich brown color (about 30 minutes), add the Woodbridge by Robert Mondavi Cabernet Sauvignon, and cook for another 3 minutes or until the wine is completely absorbed. Remove from heat.
Add cream cheese, sour cream and yogurt to the bowl of an electric mixer, and beat until smooth on medium-low speed. Turn the mixer down to the lowest speed, and add the onions. Add seasonings to taste.
Garnish with chives, and serve at room temperature.
*Entertaining Tip: Make dip up to two days in advance, reserving a tablespoon or so of the caramelized onions for garnish. Remove from the refrigerator 30 minutes before serving to bring to room temperature. Pair with Woodbridge by Robert Mondavi Cabernet Sauvignon.
Caramel Almond Popcorn Clusters
Recipe and photo courtesy of the Popcorn Board
"These popcorn clusters are bursting with sweet, nutty flavors that are perfect for entertaining a group, giving as a gift or just enjoying at home!"
10 cups freshly popped popcorn
2 cups whole almonds
1 cup firmly packed light brown sugar
1/2 cup butter or margarine
1/4 cup light corn syrup
2 teaspoons vanilla
1 teaspoon almond extract
1/2 teaspoon baking soda
Preheat oven to 225°F. Spray a 10- x 15-inch baking sheet with non-stick spray. Mix popcorn and almonds in a large bowl.
Combine brown sugar, butter and corn syrup in medium saucepan. Over low heat, stir mixture until sugar dissolves. Increase heat to high, and boil 5 minutes. Remove from heat; stir in vanilla, almond extract and baking soda.
Pour over popcorn and almonds, immediately stirring gently to coat. Pour mixture onto prepared baking sheet, spreading evenly.
Bake for 1 hour in preheated oven. Cool completely. Break into pieces, and store in airtight container.