Horse racing gives tailgaters a different look, a different audience and a different menu all while keeping to the principles of good food and great friends that make tailgating such a draw for sports fans.
It is this time of year when winter's chill has thawed and our minds eagerly look to warmer temperatures and the joys of spring. Annually announcing spring's arrival is an event whose legendary pomp and circumstance is more revered than its champion. There are few venues in sport that are both filled with pageantry and held in the highest of esteem by fans from all over the world. One such venue is Churchill Downs. The Kentucky Derby is of the most celebrated events in all of sport and though seldom reported, one of the greatest tailgating venues in the world. Horse racing gives tailgaters a different look, a different audience, and a different menu all while keeping to the principles of good food and great friends that make tailgating such a draw for sports fans.
Fans of auto-racing are familiar with infield chaos and parties that seem to be oblivious to the events that literally surround them. It interests many to discover that the infield of Churchill Downs is comparable to Mardi Gras or the infield of Talladega Motor Speedway. The supreme party culture merges with high fashion and champagne creating an amazing blend of the refined mystique of the derby with the down home mud slides of a Woodstock-esque raging good time. Nearly 155,000 fans from all over the country make the 40 acres home for Derby Days.
Outside of the arena high fashion, exquisite cuisine and incredible tradition mold the appearance and feel of every aspect of the event. Movie stars, musicians, politicians and royals take in the festivities of millionaire's row while people from all walks don their seer sucker and sun dresses as a sea of big hats migrate around the famed "Run for the Roses".
For everyone unable to make it to the festivities, we are including a sampling of Kentucky Derby party food recipes for your very own derby day bash. From Burgoo to Mint Juleps, these additions to your menu will inspire you to bust out the big hats and pastels for the day of the race.
Mint Julep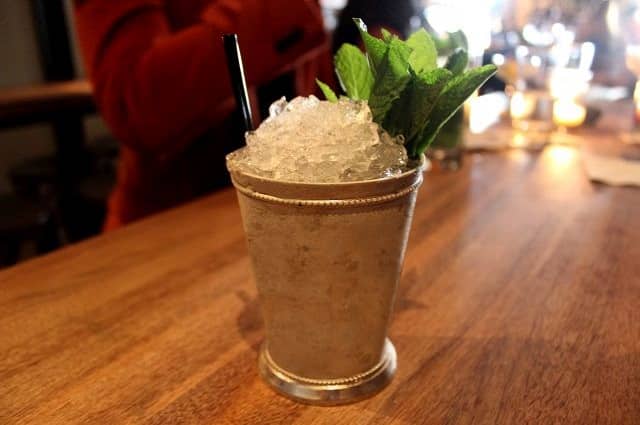 "The traditional Derby Day cocktail crafted from bourbon, simple syrup and mint. The Mint Julep has been promoted by Churchill Downs in association with the Kentucky Derby since 1938. "
1/4 ounce simple syrup
2 ounces bourbon
Sprigs of fresh mint
Crushed ice
Julep Cups
Simple Syrup
1/2 cup granulated sugar
1/2 cup water
Simple Syrup: Add the sugar and water to a small saucepan over medium heat. Stir until sugar is dissolved. Let cool, then pour into a glass jar and seal tightly with a lid. Simple syrup will keep, refrigerated, for about one month.
Mint Julep: Place the julep cups in the freezer for at least an hour. Lightly muddle the mint leaves in the simple syrup. Add the bourbon then pack the glass tightly with crushed ice. Stir until the cup is frosted on the outside.
Traditional Kentucky Burgoo
"Burgoo dates to before the Civil War and as legend has it, was invented by a French chef. Like a mulligan stew, it's sort of a empty-the-fridge recipe. Burgoos typically have at least three different meats, and plenty of vegetables such as corn, okra, and lima beans."
3 tablespoons vegetable oil
3 pounds of mixed meats (beef, lamb, pork, chicken and/or game), cut into several pieces
1 green pepper, chopped
1 large onion, chopped
2 carrots, chopped
2 celery ribs, chopped
5 garlic cloves, chopped
1 quart chicken stock
1 quart beef stock
1 28- ounce can crushed tomatoes
2 large potatoes
1 bag of frozen corn, about a pound
1 bag of frozen lima beans or canned black-eyed peas, about 14 ounces
Salt and pepper
1/4 cup Worcestershire sauce
Tabasco or other hot sauce on the side
Pour oil into a large Dutch oven or soup pot and heat to medium-high. Working in batches, brown all the meats. Salt and pepper the meat as it cooks. After meats brown, move to a bowl.
Add the onions, carrots, celery and green pepper to the pot and turn heat to high. Cook the vegetables until they are well browned; add more oil if needed. After vegetables have browned, add the garlic and cook for 1 minute. Add meats, chicken and beef broths and tomatoes. Stir to combine and add salt to taste. Bring to a simmer, cover, reduce heat and simmer gently for 2 hours.
Remove the meat pieces and tear into bite-sized pieces. Return all the meat to the pot and return the stew to simmer.
Peel and cut the potatoes into small chunks. Add them to the stew and simmer until tender. Add the Worcestershire sauce and mix well. Season with more for salt, pepper and Worcestershire sauce if needed.
Add the corn and lima beans. Mix well and cook for at least 10 minutes or longer. Serve with a bottle of hot sauce on the side.
Kentucky Hot Brown
"Hot brown sandwiches are open-faced hot turkey sandwiches with bacon that are the signature dish of one of the Brown Hotel in Louisville."
1/2 cup butter
1/2 cup flour
3 to 3 1/2 cups milk
1 beaten egg
6 tablespoons Parmesan cheese
2 tablespoons whipped cream
Salt and pepper to taste
Slices of roast turkey
8 to 12 slices toast (trimmed of crusts)
8 to 12 slices cooked bacon
Melt butter and add flour, stirring with a whisk or spoon to make a thick roux. Add milk gradually and whisk to blend completely before adding more. As the sauce thins you can add milk more quickly. Bring to a boil.
Beat a little of the hot mixture with the egg. Remove sauce from heat and beat in the egg mixture. Add cheese and stir. Fold in whipped cream. Season to taste.
For each Hot Brown, place 2 slices of toast on a flameproof dish. Cover with a liberal amount of turkey. Pour a generous amount of sauce over the turkey and broil about 6 inches from the heat until the cheese sauce begins to bubble.
Sprinkle with additional Parmesan cheese. Place dish under broiler until sauce is speckled brown and bubbly. Remove from broiler and top with 2 pieces of bacon. Garnish with tomato slices, if desired.
Kentucky Cheese Garlic Grits
"Cheesy garlic grits are a wonderful side dish to add to Derby Day brunch or any meal."
1 cup quick grits
4 cups boiling water
1 teaspoon. salt
4 ounces butter
12 ounces sharp cheddar cheese
1 egg
1 tablespoon. garlic powder
3/4 cup milk
dash hot sauce
Cook grits in boiling water until thick. Remove from heat. Stir in butter and half of the cheese.
Beat egg with garlic powder, milk and hot sauce. Add mixture to grits. Pour into buttered, two-quart casserole dish. Top with the rest of the cheese.
Bake one hour at 350°.
Kentucky Bourbon Balls
"These smooth chocolate confections are so good and addictive! A great recipe to serve for your Kentucky Derby Day Bash!"
1 stick butter
1 lb. box powdered sugar
1 cup chopped pecans
4 teaspoons bourbon
4 ounces semi-sweet chocolate
4 ounces bittersweet chocolate
Note: May require more chocolate for dipping. Suggest you have some semi-sweet chocolate chips on hand.
One day ahead: Cream the butter and sugar. Add the chopped pecans, mixing well. Add the Bourbon. Shape into balls using about 1 tsp. of the mixture for each ball. (You may need to let the batter sit in the fridge for an hour or two before you can easily roll it into balls.) Refrigerate overnight.
Next day: Melt semi-sweet and bittersweet chocolate in a large microwave safe bowl until smooth. Dip the chilled balls in the chocolate and place on waxed paper in the refrigerator to harden.
Bread Pudding with Bourbon Sauce
"Bread Pudding recipe with a rich Bourbon Cream Sauce is a classic Southern dessert perfect for any occasion!"
1 pound French style bread
3 1/4 cups milk
3 eggs
2 teaspoons vanilla
3/4 cup granulated sugar
1/4 teaspoon cinnamon
1/4 cup pecans
1/4 cup raisins (optional)
Sauce:
1 cup granulated sugar
6 tablespoons. butter, melted
1/2 cup buttermilk
1 tablespoon bourbon
1/2 teaspoon baking soda
1 tablespoon white corn syrup
1 teaspoon vanilla
Tear bread into medium pieces. Add sugar and cinnamon. Mix milk, lightly beaten eggs and vanilla. Add to bread mixture. Place half of the mix in a casserole dish. Layer pecans and raisins, if used. Top with the rest of the mix. Bake at 350° for 30 minutes.
To make sauce, combine all ingredients in a saucepan. Bring to a boil for one minute. Serve warm with warm bread pudding.