With much of the country suffering through another bout of the winter blues, stay warm and relaxed with Irish Coffee and more warm winter cocktails. With the mercury in negative territory, consider these classic hot cocktails that are easy to make and worth inserting into your repertoire while entertaining guests or a relaxing night at home.
While the exact origins of whiskey and coffee are unknown, the classic, modern Irish coffee originated in 1943 when Ireland-based chef and bartender Joe Sheridan was asked to create a hot beverage for passengers aboard a Pan Am flight bound for New York that was forced to turn back to Ireland due to bad weather. Sheridan added a little Irish whiskey and pouring cream to his passenger's coffee.
How about whipping up a batch of Hot Buttered Rum or Spiked Hot Chocolate? We've got these recipes and more! Heat things up with Irish Coffee and more warm winter cocktails at your next gathering with friends and family.
Joe Sheridan's Original Irish Coffee
Courtesy of Irish Central, irishcentral.com
"Irish coffee was brought to America by Stanton Delaplane, a travel writer for the San Francisco Chronicle, after sampling the drink by Sheridan at the Shannon Airport bar. Delaplane convinced Jack Koeppel, owner of the Buena Vista Cafe in San Francisco to put Irish coffee on the menu. The Buena Vista Cafe now serves up to 2,000 Irish coffees per day."
2 sugar cubes
1 ½ ounces Tullamore Dew Irish Whiskey
6 ounces brewed coffee
heavy cream, lightly whipped
Fill a glass with very hot water to preheat the vessel, then empty. Pour the hot coffee into the glass. It should be about three-fourths full. Drop in the sugar cubes. Stir until sugar is completely dissolved. Add whiskey. Top with a collar of lightly whipped cream by pouring gently over a spoon. The coffee concoction should be sipped through the floating cream.
Hot Buttered Rum
"Winter can be an endless, freezing drag. Nothing helps melt through seasonal malaise like a classic Hot Buttered Rum cocktail. It's both sweet and warm, which is just the kind of comfort you want on the coldest days of the year."
3/4 cup rum
2 cups boiling water
1/4 cup honey
1/2 teaspoon ground cinnamon
2/3 cup dark brown sugar, packed
1/2 cup unsalted butter, at room temperature
1/4 teaspoon ground nutmeg
1/8 teaspoon ground cloves
Pinch of salt
4 sticks cinnamon, for garnishing and serving
In a medium bowl, add honey, cinnamon, brown sugar, butter, nutmeg, cloves, and salt. Mix with an electric mixer. Add the rum and boiling water. Stir until the butter-and-spice mixture dissolves. Serve warm, garnished with cinnamon sticks.
Classic Hot Toddy
"A good Toddy has been known to jump-start mornings, cure colds and play furnace on a frigid evening. The secret to making the best hot toddy is simple—just tinker with the amount of lemon juice and honey until it suits your taste buds."
16 ounces boiling water
4 cloves
1 lemon twist
2 teaspoons Demerara sugar or brown sugar
1/4 ounce lemon juice
2 ounces bourbon, rye whiskey, Irish whiskey or Scotch
Fill a mug with half of the boiling water and let stand for up to two minutes. Keep the remaining water boiling. Stick the cloves into the lemon twist and set aside. Empty the mug and fill it about halfway with boiling water, then add sugar and stir to dissolve. Add lemon twist and stir, then add lemon juice and whiskey. Stir and serve.
Spiked Hot Chocolate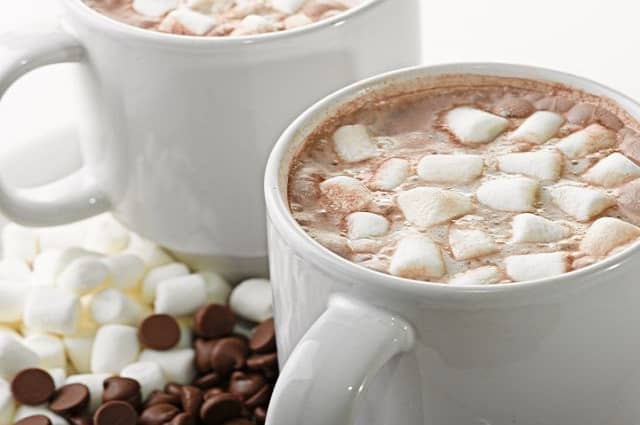 "When the weather's cold and you need a warming pick-me-up, nothing beats a good hot chocolate. Adding a dose of liquor to your mug creates a rich, satisfying cocktail after a long day or a decadent after-dinner treat."
2 ounces semisweet chocolate, finely chopped
6 ounces milk, heated
1 1/2 ounces spirit of choice
Garnish: mini marshmallows
Put the chopped chocolate in a coffee mug. Pour hot milk into the mug and let stand for 2 minutes until the chocolate melts. Stir until smooth. Pour in the spirit of your choice and stir to combine. Garnish with mini marshmallows.
Orchard Toddy
Photo and recipe courtesy of Angry Orchard and mixologist Jeremy Oertel
"The Crisp Apple flavor is one of Angry Orchard's core ciders and is made from traditional cider apples for a blend of sweetness and bright acidity, just like biting into a fresh apple. Angry Orchard partnered with mixologist Jeremy Oertel to create this delicious cocktail. "
1 bottle Apple Orchard Cinnful Apple
4 1/2 ounces Scotch or Irish Whisky
2 1/4 ounces lemon juice
3 ounces Honey Ginger Syrup (recipe follows)
3 ounces water
For the Honey Ginger Syrup:
2 cups honey
1 cup water
2 tablespoons finely chopped peeled ginger
Add all ingredients to a crockpot and set on low heat. Allow to heat up and then serve and garnish with a lemon wheel studded with cloves. If using a stovetop, add all ingredients to a small saucepan and simmer over low heat. Be careful not to allow the mixture to get too hot, because the alcohol will boil off .
Honey Ginger Syrup: Peel the ginger and then finely chop. Add all ingredients to a pot and cover. Simmer over medium to low heat for 20 minutes. Strain and allow to cool. Store in the refrigerator.
Mulled Red Wine
"This delicious spicy, mulled wine cocktail will be just the trick to warm you up on those chillly nights."
1 bottle red wine
1 orange, sliced
6 cloves
3 star anise
3 cinnamon sticks, plus more for garnish
1 lemon, sliced
¼ cup honey
½ cup brandy
In a medium saucepan over medium heat, combine all ingredients. Simmer gently over low heat for 10 minutes. Serve warm to hot. Garnish with citrus slices and cinnamon sticks if desired.