Cooler weather is here! Here are some hot cocktails to help fight the chilly air at the next tailgate, campsite, or an evening around your backyard fire pit.  Depending on how heavy your pouring hand is, most adult beverages can keep you warm and toasty, but these tend to do a better job than the average drink. And don't forget their medicinal qualities as well!
Spiked Apple Cider
"Warm up those chilly tailgates or evenings around the firepit with Spiked Apple Cider. A warm, comforting, adult beverage with a hint of citrus and the kick of rum!"
1/4 gallon apple cider
1/2 cup dark rum
1/2 cup cinnamon schnapps
1 Granny Smith apple, peeled, cut into large chunks
1/2 lemon, juiced
Mix the cider, rum, and schnapps together. Take your apple chunks and sprinkle them with lemon juice; this helps to keep them from turning brown. Drop your apples into the mix, and you have a delicious, fancy-looking cocktail.
Honey-Bourbon Toddy
"A classic winter beverage to warm things up at the next tailgate or gathering around the backyard fire pit. Also highly recommended for medicinal purposes!"
2 tablespoons honey
1 cup hot water (I recommend bringing a portable water boiler to the tailgate)
6 tablespoons bourbon
2 lemon peel strips (If you're feeling fancy)
2 cinnamon sticks
Stir honey and water until honey dissolves. Add bourbon. Divide between 2 glasses. Add your classy lemon peel twist, and then pour in the mixture. Stir with a cinnamon stick and drink up!
Spiked Hot Chocolate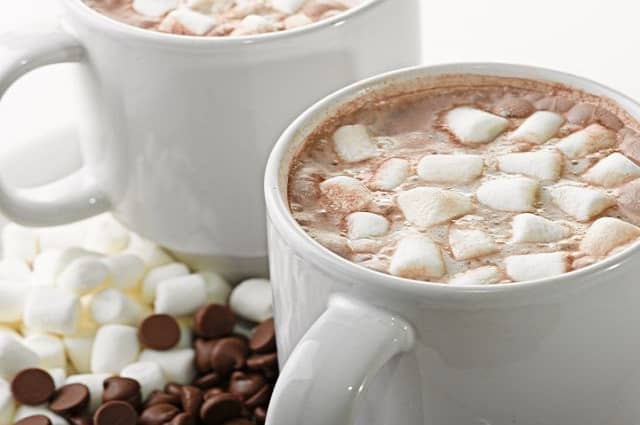 "When the weather's cold and you need a warming pick-me-up, nothing beats a good hot chocolate. Adding a dose of liquor to your mug creates a rich, satisfying cocktail after a long day or a decadent after-dinner treat."
2 ounces semisweet chocolate, finely chopped
6 ounces milk, heated
1 1/2 ounces spirit of choice
Garnish: mini marshmallows
Put the chopped chocolate in a coffee mug. Pour hot milk into the mug and let stand for 2 minutes until the chocolate melts. Stir until smooth. Pour in the spirit of your choice and stir to combine. Garnish with mini marshmallows.