It's an American tradition to go to a baseball game and get a hot dog, peanuts or cracker jacks. Thankfully, stadiums offer many more enticing food options to keep the hungry fans content.
Ballpark fare satisfies a lot of comfort-food cravings. But smother those tots, chips and sandwiches with a layer of special sauce, cheese or toppings and it's a whole new ballgame. Planning a baseball watching party or tailgating before the game? We have the bases covered with these 6 great baseball party food recipes you can make at home or in the parking lot!
Steak Nachos with Lager Cheese Sauce
Courtesy of Tyson Willis on Twitter @twillis321
"Don't use a ridiculously flavorful beer. The fluid can make or break this recipe. Sodium citrate is a magical ingredient that makes cheese sauce creamy smooth without having to dilute the flavor of the cheese with milk."
For the nachos:
1 pound flank steak
2 tablespoons olive oil
1 lime, juiced
1 orange, juiced
1 tablespoon roasted garlic, chopped
½ tablespoon hot cumin
1 teaspoon sea salt
½ teaspoon ground black pepper
1 bag corn tortilla chips
For the lime-cilantro rice:
2 tablespoons olive oil
1 cup long-grain rice
2 cups water
1 lime, juiced
cilantro, to taste
For the lager cheese sauce:
¾ cup lager beer or milk
1 ½ teaspoons sodium citrate
8 ounces applewood smoked cheddar (because it's smoked!)
1 tablespoon smoked paprika
½ teaspoon garlic powder
½ teaspoon onion powder
For the lime-cilantro rice: Put the oil and rice into a medium-high electric frying pan (or skillet on the stove or grill). Roast the rice to get a nice, very light tan color. Add the water and simmer until the water is gone. Stir in the lime juice and cilantro. Keep warm.
For the steak: Mix olive oil, lime juice, orange juice, garlic, cumin, salt and pepper in a container, such as a plastic zip bag. Add the steak and make sure it is completely covered by the marinade. Refrigerate for at least 2 hours, but not more than 8. Remove the steak from the marinade and discard the liquid.
Preheat the grill as hot as you can in order to get good grill marks and a great crust (my favorite part). Add the meat to the hot grates and grill, turning once, until medium or medium-rare, about 135°F on a meat thermometer. Remove and let sit for 10 minutes. Cut the meat into bite-size pieces and keep warm.
For the cheese sauce: In a saucepan, pour in the liquid and sodium citrate and boil until it dissolves over medium heat. Once dissolved, break the cheese into chunks and add, stirring until melted. Stir in the remaining ingredients.
Assemble the nachos: Arrange a layer of tortilla chips on the plate, overlapping a bit. Sprinkle a shallow layer of the rice over the chips. Pour the creamy cheese sauce over it all (the cheese helps hold the citrus rice to the chips). Add a layer of the diced steak, and top with diced tomatoes, cilantro, sour cream, chiles, or whatever strikes your fancy.
Grilled Beer Bratwurst with IPA Mustard BBQ Sauce
Courtesy of Ray Sheehan, BBQ Buddha, bbqbuddha.com
"You just can't go wrong serving beer bathed grilled brats at your next tailgate or backyard barbecue party!"
For the sauce:
1/2 cup unsalted butter
1 small onion, diced
2 cloves garlic, minced
2 cups whole grain mustard
1/2 cup IPA beer
2 teaspoons Worcestershire sauce
2 tablespoons light brown sugar
1/4 teaspoon cayenne pepper
pinch of salt
For the sandwiches:
6 uncooked bratwurst links
1 12-ounce beer
1 onion, thinly sliced
6 pretzel buns, split and toasted
for the red cabbage sauerkraut
1/2 head red cabbage, thinly sliced
2 tablespoons olive oil
1/3 cup garlic, minced
2 teaspoons caraway seeds
2 teaspoons yellow mustard seeds
1 cup cider vinegar
salt
black pepper
For the Sauce: In a small saucepan over medium heat, melt the butter. Add the onions and lower the heat to medium-low. Sauté the onions, stirring occasionally for 5 minutes or until tender. Add the garlic and cook for 20 seconds more. Stir in the mustard, beer, Worcestershire sauce, brown sugar, cayenne pepper, and salt. Simmer for 15–20 minutes until slightly thickened. Set aside.
For the Red Cabbage Sauerkraut: In a large saucepan, heat olive oil over medium heat. Add the garlic and cook until fragrant but not browned, about 1–2 minutes. Add the cabbage, caraway seeds, mustard seeds, and vinegar to combine. Lower the heat to low and continue to cook for about 10 minutes. Transfer the sauerkraut to a bowl and season with salt and pepper to taste. Serve warm or chilled. This will keep in your refrigerator for up to three days.
For the Sandwiches: Set up your grill for 2-zone cooking. For a charcoal grill, light a charcoal chimney, and when the edges of the charcoal at the top of the chimney begin to ash over, dump the pile of hot coals onto only one side of the grill to form your hot zone (direct cooking). The other empty side forms your cool zone (indirect cooking). For a gas grill, turn on the burners on only one side to form the direct zone. The other side forms your indirect zone.
Place the bratwurst, beer, and sliced onion in a disposable aluminum half-pan. When the grill is ready, place the pan over the direct heat and bring to a boil.
Move the pan over to the indirect side of the grill and close the grill lid. Simmer for 8–10 minutes or until the sausages reach an internal temperature of 160°F. Drain and discard the beer mixture.
Grill the bratwurst directly on the grates over indirect heat with the lid closed, 6-8 minutes or until browned, turning occasionally.
Assemble by placing a brat on the toasted pretzel bun, slathering on the IPA Mustard BBQ, and topping with a helping of the Quick Red Cabbage Sauerkraut.
Ballpark Cheesesteaks Sandwiches
Courtesy of Mike Purvis on Twitter and Instagram @gottagrill
"Use a griddle or cast-iron pan for these, either on your stove or the grill."
8 6-inch soft hoagie rolls
2 pounds ribeye steaks, thinly shaved (let your butcher do the work)
24 slices Provolone cheese
1 10-ounce bag shredded lettuce
salt and pepper or fajita seasoning to taste
mayonnaise as condiment (Duke's is my preference)
Sauté and add any or all of these toppings:
2 medium sweet onions, thinly sliced
2 bell peppers of your color choice, thinly sliced
1 12-ounce package baby bella mushrooms, sliced
Lightly toast or grill the inside of the hoagie rolls, set aside.
Heat the skillet or griddle on a 350°F grill, add the beef and season per your preference. Turn occasionally using tongs until cooked through, about 2–3 minutes per side or until just cooked through. Set aside, keeping warm.
In a saucepan, slowly melt the Provolone.
Spread the desired amount of mayo on the bottom of each toasted/grilled roll. Place the shredded lettuce along the bottom of each roll.
Top the lettuce with a generous amount of shaved beef, then gently pour the melted provolone over the length of the meat. Serve hot with dill pickle spears and chips or fries.
Pulled Chicken Sandwich with Carolina Slaw
Reprinted with permission from Award-Winning BBQ Sauces and How To Use Them by Ray Sheehan, Page Street Publishing Co. 2020. Photo: Ken Goodman
"Pulled chicken is a great alternative to pulled pork when you need something quick and easy!"
1/3 cup olive oil
2 tablespoons cider vinegar
2 tablespoons sugar
1 teaspoon salt
1⁄4 teaspoon freshly ground black pepper
1⁄2 teaspoon celery seeds
1-pound package coleslaw mix
1 small onion, sliced thinly
2 Smoked Chicken Halves, heated
1⁄2 cup North Carolina BBQ Sauce (see below), warmed, plus more for drizzling
4 brioche buns
In a medium-sized bowl, whisk together the olive oil, vinegar, sugar, salt, pepper and celery seeds. Add the coleslaw mix and onion and toss to coat. Cover the bowl and refrigerate it until ready to use.
Remove all the meat from the chicken, discard the skin, and shred the meat. Add the chicken to the warm BBQ sauce and mix well.
Pile the pulled chicken on the lower halves of the buns and drizzle with extra BBQ sauce. Top them with the Carolina slaw and close the sandwiches to serve.
North Carolina BBQ Sauce
"The sauce has a vinegar base with a good amount of ketchup, rounded out with mustard and brown sugar. The finished sauce is not as thin as most Carolina sauces, making it a tangy and versatile accompaniment to pork, chicken and most other barbecue meats."
Makes: about 2 1⁄2 cups
1 cup cider vinegar
1 cup ketchup, such as Simply Heinz
1/3 cup prepared yellow mustard
1⁄2 cup packed light brown sugar
1 teaspoon Worcestershire sauce
1 teaspoon granulated garlic
1 tablespoon onion powder
1 teaspoon chili powder
1⁄4 teaspoon cayenne pepper
1 teaspoon freshly ground black pepper
In a medium-sized saucepan, combine all the ingredients and bring to a gentle boil over medium heat, stirring to dissolve the sugar. Lower the heat to low, and simmer until it's slightly thickened, 20 to 25 minutes, stirring frequently. Let the sauce cool, transfer it to a jar, and store it in the refrigerator for up to a month.
Smothered Tater Tots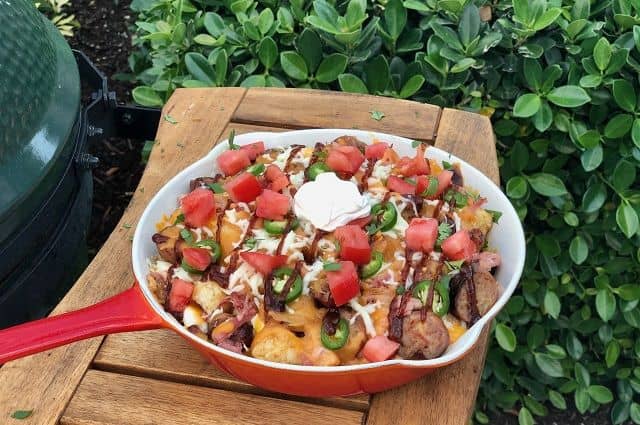 Courtesy of Shannon Morgan on Instagram @biggreeneggfoodie
"This dish is so versatile. Use any leftover meat on-hand or no meat. Don't have cheddar or mozzarella? Toss in Monterey jack. Cilantro hater? Add green onions. No black beans? Omit or use pinto beans."
1 bag frozen tater tots
1/3 brick of cream cheese
2 grilled Italian sausages, sliced
1 cup smoked pull pork, shredded
1/2 can black beans, drained and rinsed
2 cups mixture of shredded cheddar and mozzarella cheese
1 jalapeno, sliced
For the toppings:
1/4 cup barbecue sauce
1 tomato, diced
1/2 cup sour cream
1/4 bunch cilantro, chopped
Add about 2/3 of a bag of frozen tater tots into a 10-inch, cast-iron pan.
Cut the cream cheese into small chunks and drop them among the tots (my secret ingredient for smothered tots and nachos. The cream cheese is a great creamy, surprise).
Top with the rest of the ingredients.
Cover loosely with foil and bake over indirect heat on the Big Green Egg or your oven at 400°F for about 40 minutes. Uncover and bake an additional 5 minutes.
Drizzle with barbecue sauce, and top with diced tomatoes, diced cilantro and a dollop of sour cream, if desired.
Bacon Cheese Popcorn
Courtesy of the Popcorn Board
"For the ultimate snack try this tasty popcorn tossed with crispy bacon and parmesan cheese."
4 quarts popped popcorn
1/3 cup butter or margarine
1/4 teaspoon hickory liquid smoke seasoning
1/3 cup bacon bits or soy 'bacon' bits
1/3 cup grated Parmesan cheese
1 teaspoon seasoned salt or kosher salt
Place butter in a small bowl and melt in microwave, about 20 seconds. Stir liquid smoke into butter. Pour butter mixture over popcorn and toss to distribute evenly. Sprinkle bacon bits, Parmesan cheese and salt over popcorn. Toss and serve immediately.