You just can't go wrong serving hot dogs, sausages, or brats at a tailgate party. How about jazzing things up a bit? If you want to put a new spin on the traditional method of serving them, here's a few great recipes to consider as you prepare the menu for the next tailgate or backyard BBQ party.
The Johnsonville Brat Hot Tub
Courtesy of Johnsonville Sausage, johnsonville.com
"The Johnsonville® Brat Hot Tub is the perfect tailgate fixture to keep your brats tasting delicious well after you've removed them from the grill. Never before has such a simple game day recipe received so many compliments – even rival fans will put aside their differences in order to taste a brat that has been soaking in a delicious beer bath."
One 11 x 9 x 2 3/8-inch aluminum foil baking pan
2–3 beers3 beers
2 tablespoons butter
1 medium yellow or white onion, sliced
Johnsonville Brats to feed your crowd
Put the pan right on the grill, being careful not to singe your knuckle hair, pour in the beers and add the butter and onions. Grill your Johnsonville Brats to a juicy, golden-brown perfection. Serve immediately to your hungry guests and place any remaining brats into the steaming hot tub. When folks are ready for seconds or thirds – or when stragglers show up late – grab a Brat out of the hot tub and enjoy!
Zilla Dog
Courtesy of Chef Ryan Farr
"The Zilla Dog takes the traditional game-day hot dog by storm and overloads it with zesty toppings of kimchi, scallion, money sauce, and 4505 Chicharrones."
6 all-natural hot dogs
6 1-ounce bags of 4505 Chicharrones, your favorite flavor
6 hot dog buns
1 ½ cups spicy kimchi
1/3 cup scallion, chopped
3 sprigs cilantro, trimmed
1-2 tablespoons 4505 Meats Money Sauce (recipe below)
For 4505 Money Sauce:
3 tablespoons sambal
3 tablespoons soy sauce
3 tablespoons yellow mustard
3 tablespoons kecap manis (Indonesian sweet soy sauce)
Mix all sauce ingredients together in small bowl. Set aside. Griddle or grill the hot dogs till golden brown. Toast the buns. Place a hot dog in each bun and top with kimchi, scallions, cilantro, Money Sauce, and, most importantly, the 4505 Chicharrones.
Beer Brat Slawsa Dogs
Recipe and photo courtesy of Slawsa®
"The key to not overcooking or drying out your brats is to cook them over low heat and then transfer them to a hot grill to achieve those nice grill marks."
2 medium- to full-bodied beers
1 yellow or white (non-sweet) onion, chopped
8 stadium-style brats
8 hotdog buns
1 16-ounce jar of Slawsa® Original
Heat beer and onions either on the stovetop or the upper grill rack. Submerge brats in the mixture and cook over low heat for 10–15 minutes or until cooked through. Transfer brats to hot grill and sear them for 2 to 3 minutes, turning once.  Serve them on a bun topped with Slawsa® Original. Enjoy!
Kids Corn Dogs
Excerpted from
"Dadgum That's Good, Too!"
by John McLemore. Copyright 2012. Used with permission of InPrint, LLC
"Who doesn't love corn dogs?! These corn dogs are a kid-pleasing dish, but don't let the name fool you. In our house, being a kid has nothing to do with your age. I've heard it said before, "growing old is not an option, growing up is!" I choose not to grow up, and my wife and kids would give an AMEN to that! If you have some little kids in your crowd, halve the skewers and hot dogs for mini versions of this recipe."
16 10-inch wooden skewers, soaked in water for 30 minutes
1 cup all-purpose flour
1 cup yellow cornmeal
2 tablespoons granulated sugar
1 tablespoon baking powder
1/8 teaspoon freshly ground black pepper
1 egg, lightly beaten
1 cup milk
1 gallon cooking oil
2 11-ounce packages hot dogs
Ketchup
Mustard
Soak wooden skewers in water for 30 minutes. 
In a large bowl, combine flour, cornmeal, sugar, baking powder and pepper. Stir in egg and milk. Fill deep fryer halfway with oil and heat to 375°.
Insert wooden skewers into hot dogs. Roll hot dogs in batter until well coated. Fry two or three corn dogs at a time for two minutes or until golden brown. Use a metal slotted spoon to transfer to paper towels to drain. Serve with your favorite condiments.
Reuben Brat Hoagie
Courtesy of Johnsonville® Sausage, johnsonville.com
"Grilled and sliced Johnsonville Sausage, Swiss Cheese and Thousand Island Dressing combine on a hearty hoagie roll for the perfect game day crowd pleaser. Add chips and a pickle and watch the crowd come running at halftime!"
1 package (19.76 ounces) Johnsonville® Original Bratwurst
1 large onion, sliced
1 teaspoon butter
1/3 cup Thousand Island salad dressing
1/3 cup coarse ground mustard
1 loaf (1 pound) French bread
12 thin slices Swiss cheese
1 can (14 ounces) sauerkraut, drained
Grill brats according to package directions. When cool enough to handle, cut into ¼-inch bias slices.
In a skillet, sauté onion in butter until tender; set aside. In a small bowl, combine salad dressing and mustard.
Slice French bread lengthwise and transfer to a baking sheet. Spread salad dressing mixture on the inside of bread. Layer bottom of bread with six slices of cheese, brats, onions, sauerkraut and the remaining cheese.
Bake at 350°F for 10 minutes or until cheese is melted. Cut hoagie and serve hot.
Kiolbassa Kabobs
Courtesy of Kiolbassa Provision Company, kiolbassa.com
"Serve Kiolbassa Kabobs for the next tailgate party or backyard BBQ gathering. Your friends and family will not be disappointed!"
7 links of your favorite Kiolbassa Sausage flavor
4 potatoes
1 zucchini
4 bell peppers (red, yellow and/or green)
3 tomatoes
4 portobello mushrooms
Extra virgin olive oil
Rosemary
2 lemons
Salt and Pepper
12 metal skewers
Light a charcoal grill. While it is heating, place 4 cups of water and a teaspoon of salt in a pot on the stove and bring to a boil. Cut the potatoes into 1-inch cubes. Place the potatoes in the heated water and let cook for 15 minutes.
While potatoes are cooking, cut the sausage links, tomatoes and bell peppers into bite-sized portions and thinly slice the zucchini and mushrooms into 1 1/2-inch pieces.
When the potatoes are cooked through but still firm, remove them from the water and place them on a paper towel. You can now start to slide all of the ingredients in even portions onto the skewers. After each skewer is complete, rub olive oil all over the kabobs, season with salt and pepper and sprinkle with rosemary.
Once the grill is heated (white and black coals and sporadic flames), place the kabobs over the center of the grill. Give each side (4 sides) 3 minutes. After 6 minutes of cooking, squirt some lemon juice on the kabobs. After 12 minutes total, the kabobs should be hot and ready to enjoy.
Spiral-cut Rollers with Bacon and Onion
Excerpted from
Sliders and Rollers,
by David Cowie, ©2013 New Holland Publishers, ©2013 Food Photographs, Sue Stubbs
"What a great way to step-up your hot dog game for the next tailgate party!"
4 pieces short-cut bacon, thickly diced
1 onion diced
12 cocktail franks
12 roller buns of your choice
Oil, for frying
Note: Short-cut bacon is taken from the loin section of the pig and is less fatty than middle bacon.
Fry the diced bacon until crispy. Set aside on some paper towel, and then, in the same pan, cook the onion until it is golden brown.
Spiral-cut the franks and fry them on a hot barbecue or in a frying pan with a little oil.
Cut the roller buns lengthwise. Add the cooked franks to the roller bun, and then sprinkle the bacon and diced onion into the spiral cuts. Add your favorite toppings, sauce and mustard.
Oktoberfest Family Style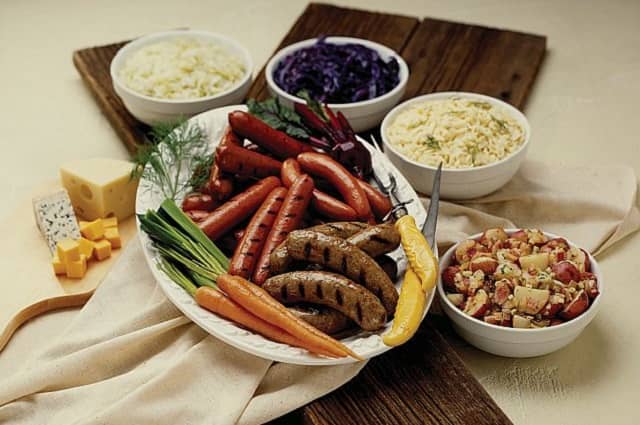 Courtesy of Johnsonville Sausage, johnsonville.com
"Are you planning your own Oktoberfest celebration or looking for a simple menu for the next tailgate party or backyard gathering? Serve this easy recipe for your next shindig with friends and family!"
5 grilled Johnsonville® Brats
6 boiled Johnsonville® Wieners
6 grilled Johnsonville® Beddar with Cheddar Sausage links
6 grilled Johnsonville® Smoked Polish Sausage links
1 bowl hot German potato salad
1 bowl sweet and sour red cabbage
1 bowl spaetzle
1 bowl sauerkraut
Serve on a large platter, family style on the center of the table like a holiday feast, along with a tray of bread and rolls and a platter of cheeses. Accompany with mugs filled with your favorite German beverage.